Will you discover you are a master or still a student? New game Slap Ninja will tell you!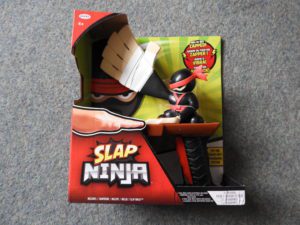 Hone your ninja fast reflexes against your opponent: the master (and his giant hand) are worked using a trigger mechanism and he needs to slap away the hand of the student trying to touch his red coin button.
If the master slaps their opponent's hand or the student pushes the button, that person gets a point and a light comes on. The first person to score three times serves the loser with a big zap!
This is a very fast paced game as it doesn't take long to score three times, plus the idea is to be lightning quick reaching for the button or pulling the trigger.
There were times that the hand would slap the student but not register which could be a little frustrating for the master. We worked out that particular angles worked better and made it fair for both players.
Music plays once the game has started and this helps to increase the anticipation. The vibration and noise is a fun way to get zapped, although be aware that children with sensory concerns may find this overwhelming.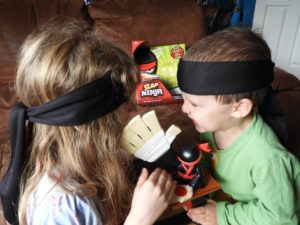 The game itself is very easy to learn and, although aimed at children over 4, Zach aged 3 was able to play against his older siblings.
But don't just take my word for the fun! Here is a video from JAKKS so you can see the game in action:
Slap Ninja has an RRP of £20 and is available from all good toy stores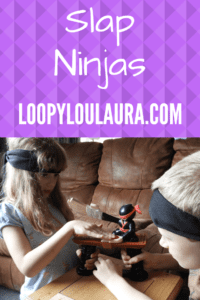 *we were sent this game for the purpose of this review