I'm really loving batch cooking and leftovers.
Day 11's lunch was thai green tofu curry from the day before. For tea I was a little bit uninspired and underwhelmed. Chris was away for the night so I wanted something quick and easy and decided to try the CoOp tomato soup. It was just like a bowl of tinned tomatoes (which I would quite happily eat!) but I expected more (at 3 times the price!) so was disappointed.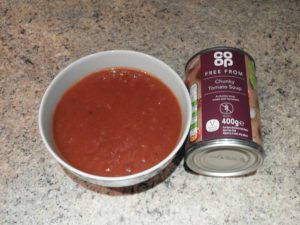 Day 12 I got experimental with some vegan cream cheese and made a creamy pasta sauce which was really rather good. Chris was home in time for tea and we dirty wedges and a brand of pizza that I hadn't tried before.
Sunday was a super treat! Miami Burger, a new vegan burger restaurant and takeaway had opened in Reading at the start of the year and we were invited to go and try their menu. Mega happy smiles all round. The food was amazing (read more here)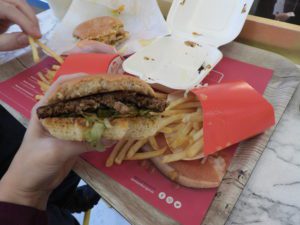 Tea was leftovers. Still loving the corn cakes and oat cakes but cheese still not getting me excited.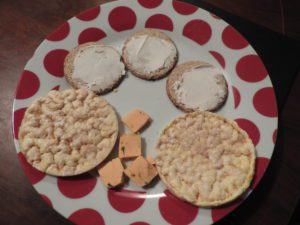 I love it when products I already eat turn out to be vegan! Ilumi noodles are labelled as vegetarian on the pot but described as vegan on their website: why no consistency??? They taste good 🙂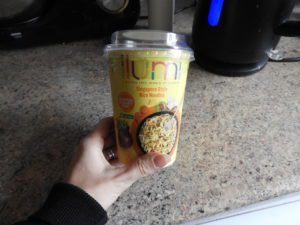 Got my baking mojo going and made some vegan biscuits. I used my shortbread recipe and used block Stork instead of butter. It is missing the richness of my usual shortbread but thinking of them as biscuits instead makes them much more acceptable!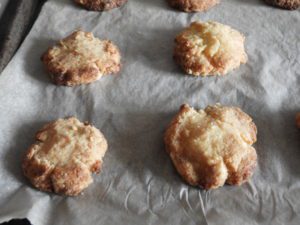 Also loving a meal that I can make for all 5 of us and everyone eats every scrap! Yay for my Italian heritage and spaghetti bolognese. Not as good as my dad's but he has been making it for 40 years!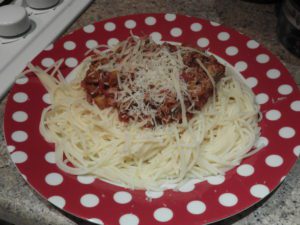 Another try at cheese on toast, this time using sliced Violife and jalopenos. It was a slight improvement on my previous attempt but it still gets an odd texture when melted.
Another leftover meal for all of us: using the bolognese I made a cottage pie.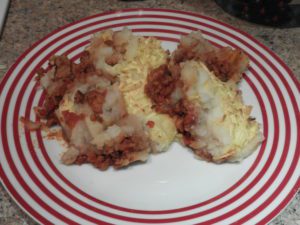 Half of the first month gone and things are going from strength to strength. Cheese remains an issue but the cream cheese is good and versatile. Next step: try baking a cake…