Back in 2017, I nervously attended my first blogging conference. Blog On was a twice yearly conference in Manchester and it felt liberating to drive myself that far from home and bravely meet some super famous bloggers.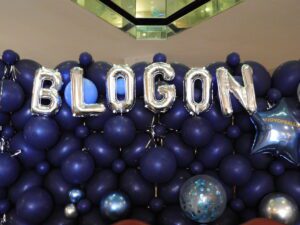 In 2019 the conference became annual and  moved to Bracknell, only 15 minutes away from me! Then we had covid and virtual events. Skip ahead to 2022 and the lovely organiser Laura Seaton has hosted her final conference. Blog On is not gone for good but will be exploring different formats.
I have been entertained, inspired and educated by the best in the business. There have been so many laughs and this year was no exception!
The raffle and the goody bag will go down in blogging history.
I feel enormously privileged to have met so many wonderful bloggers but especially lucky to have made some real friends. And met some elves, you know, standard stuff 😀