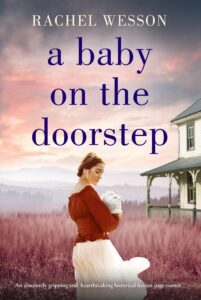 A baby is left on the doorstep of Hope House and immediately joins the family of proprietors Lauren Greenwood and Becky Tennant. Both women are committed to caring for 'unloved orphans' as the house was previously described, but their home is threatened by the creation of a national park…
A Baby on the Doorstep is the sequel to A Home for Unloved Orphans. We catch up with former heiress Lauren Greenwood and her orphanage. The Depression continues to impact on everyday life and now a national park is being created which threatens the local community and ultimately Lauren's home as well.
This is a book that pulls at the heartstrings. So many of the characters have suffered from poverty or cruelty so our emotions are instantly affected. Lauren is like a lioness, fiercely protecting her cubs. She is a staunch friend and has given up a great deal to enjoy her freedom. Lauren subverts the patriarchy of the time by being independent and, despite her developing romance with Edward, is only prepared for relationships based on equality.
There are plenty of little historical details which add an air of authenticity, such as references to the Lindbergh baby kidnapping and the sinking of the Morro Castle. I also enjoyed the plot of Edward visiting Germany to see his Jewish relatives and rescuing the children against the backdrop of Nazi persecution.
However, Becky and Lauren's continued rejection of their suitors became a little tiresome. I also found it was stretching my credulity a little far with the number of guests that kept being drawn to the house depsite the miniscule income. The ending felt very unrealistic but was certainly dramatic and enjoyable to read!
A Baby on the Doorstep is an emotional book that cleverly uses historical detail to bring the engaging characters to life.
Rachel Wesson Media Kit:
Title:                   A Baby on the Doorstep
Author:     Rachel Wesson
Publication Day:  Jan 22nd 2021
BUY LINKS:
Description:
Virginia, 1934: In the middle of the night, he crept through the bushes, thankful for the darkness, for the clouds covering the stars. Tenderly, he opened his bag, lifting the small bundle out. With tears in his eyes, he held her tight, not wanting to let her go. But he had no choice––it was the only way. "This is your new home, little one. You'll be safe here."
Distant rumblings of conflict in Europe have reached even the secluded, snow-dusted mountains of Virginia, where Lauren Greenwood faces a battle of her own. The Great Depression is crippling America, leaving millions of its victims without shoes on their feet and clothes on their backs. Hope House––the orphanage Lauren runs––is suffering more than ever.
The one thing Lauren is not short of is love. But with just a handful of dollars to her name, every day is a struggle to feed the orphans and keep a roof over their heads.
Yet she refuses to give up. When a baby is left on the porch, Lauren welcomes her with open arms. The abandoned new-born, Maisie, is left with a crumpled letter––her parents begging Lauren to look after the girl and promising to return for her one day. Lauren refuses to allow another child to fall prey to the Depression, and vows to provide little Maisie with the love and protection of a mother.
But when the debt collectors come calling, threatening to shut down the orphanage, Lauren runs out of hope. Any day now the children could be thrown onto the frozen streets, where survival is impossible.
With tragedy just around the corner, how can she ever reunite Maisie with her parents? And if she doesn't manage to save the orphans, how will she live with herself?
A totally heartbreaking tale with a beautiful and hopeful message––when all else fails, love can save the day. Fans of Before We Were Yours, The Orphan Train and Diney Costeloe will be swept away by this emotional and totally gripping historical page-turner.

Author Bio:
Having always been a fan of history, Rachel Wesson tries to combine her love of history with a good story.
Rachel was born in Kilkenny, Ireland but considers herself to be from the capital, Dublin, as that's where she spent most of her life. Every Saturday Rachel's father took her and her two sisters to the library, and to get ice-cream after, to give their mother a break. It took a long time for Rachel's sisters to forgive her for the hours she spent choosing her books!
Rachel drove everyone nuts growing up, asking questions about what they did during the War or what side they were on in the 1916 rising etc… Finally, her Granny told her to write her stories down so people would get the pleasure of reading them. In fact, what Granny meant was everyone would get some peace while Rachel was busy writing!
When not writing, or annoying relatives, Rachel was immersed in books. Her report cards from school commented on her love of reading especially when she should have been learning. Seems you can't read Great Expectations in Maths…
Later in life, after a doomed love affair and an unpleasant bank raid during which she defended herself with a tea tray, she headed to London for a couple of years. (There is a reason she doesn't write romance!). She never intended staying but a chance meeting with the man of her dreams put paid to any return to Ireland. Having spent most of her career in the City, she decided something was missing. So she packed in the job and started writing. Thanks to her amazing readers, that writing turned into a career far more exciting and rewarding than any other.
Rachel lives in Surrey with her husband and three children, two boys and a girl. When not reading, writing or watching films for 'research' purposes, Rachel likes to hang out with her family. She also travels regularly back home – in fact she should have shares in BA and Aerlingus.
Author Social Media Links: