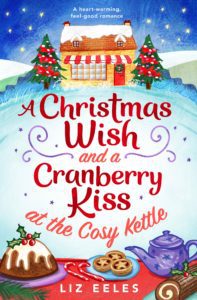 Becca runs The Cosy Kettle cafe and shares a house with her best friend Zac. She is crippled by a lack of self confidence so writes a list of wishes which she believes will make her happier in time for Christmas.
The festive period provides the opportunity for the plot: Becca's love interest Logan needs someone to host his work Christmas party so Becca offers to hold the event at the Cosy Kettle. Will their party meetings lead to romance…?
A Christmas Kiss and a Cranberry Kiss is a warm, feel-good festive themed book. Becca is a really likeable lead character and, if I'm honest, quite like me in terms of constantly comparing herself to others and finding herself lacking 🙁
Liz Eeles uses this book to remind us to be careful what we wish for and to appreciate ourselves the way we are. Becca has blinkers on and can't see herself objectively: she is recovering from heartbreak and a complete change in lifestyle and career yet can't see how brave she has been.
It was obvious from the start that Becca and Zac belonged together and around halfway through the book she realises this too but by this point her twin sister has asked him out. She tries to feel happy for them but her heart is breaking once again.
There is plenty of humour and pathos as we are introduced to a plethora of peripheral characters in the form of the book club. Whilst their actions are amusing, there is often a sadness lurking in the background and this is sensitively dealt with in the narrative.
I really enjoyed A Christmas Wish and a Cranberry Kiss at the Cosy Kettle: uplifting so just right for getting in the Christmas spirit.

Blog Tour Media Kit:
Title: A Christmas Wish and a Cranberry Kiss at the Cosy Kettle
Author:  Liz Eeles
Pub day: 07/11/2019
Buy Links:
Description:
Fans of Milly Johnson and Phillipa Ashley, the Cosy Kettle café is waiting for you to find a comfy spot by the fire and snuggle up with a steaming mug of hot chocolate. Amidst the twinkling lights and falling snowflakes, Becca has a wish to make this Christmas…
Running from heartbreak, twenty-five-year-old Becca has moved to the cosy village of Honeyford. Living with her best friend Zac in a little stone cottage and serving mince pies and steaming gingerbread lattes at the Cosy Kettle, is the perfect escape from her past.
But starting over isn't always plain sailing, and Becca's shyness is holding her back from making her mark on the café. To make matters worse, her crush on blond-haired, blue-eyed local heartthrob Logan gets stronger by the day – but he can barely remember her name. So as the snow starts to fall in Honeyford, Becca has one big Christmas wish: to completely reinvent herself. Becca dreams of bringing the Cosy Kettle success and finding romance with Logan under the mistletoe.
As she gets a makeover, cosies up to Logan over mulled wine and plans the most festive celebration the café has ever seen, Becca wonders why she waited so long to step out of her comfort zone… Zac, on the other hand, thought she was perfect before – always caring for others – and he misses the quirky girl with the bright blue hair.
When Logan turns out to not be all he seems, Becca is left wondering if he's really the one for her. With her party plans also going awry, can Becca save her beloved Cosy Kettle in time for Christmas? And has the key to her happiness been in front of her all along?

Author Bio:
Liz began her writing career as a journalist and press officer before deciding that she'd rather have the freedom of making things up as a novelist.
Being short-listed in the Corvus 'Love at First Write' competition and the Novelicious search for a new women's fiction star gave Liz the push she needed to keep putting pen to paper …. and 'Annie's Holiday by the Sea' (her first published novel) is the result.
Liz lives on the South Coast with her family and, when she's not writing, likes to spend time walking by the sea, and trying to meditate. Her ambition is to be serene one day …. she's still got a long way to go.
Author Social Media Links: