Rosie returns to her Devon home following the death of her mother. Her grief is further heightened by the revelation that her mother didn't own their home and now it is set to be demolished. Rosie is detrmined to save her home in her mother's memory but discovers other family sercets along the way. Can she heal the past as well as her own heart and will local farmer Liam help…?
Secrets at the Last House Before the Sea is a gentle and warm romance and family drama novel. It centres around second chances and forgetting the impressions of the past. Rosie remembers Liam as a player and struggles to see past their school days together. The gossip of the village creates an illusion of people that they struggle to live up or live down to.
Rosie and Liam have both been through the wringer emotionally. I was almost yelling at Rosie to ditch her selfish boyfriend Matt and finally see Liam for the kind man he is. Liam has sadness in his backstory: fears for his family's financial future, worry about his father's forgetfulness and a broken heart from being dumped at the altar.
I had read a lot of darker crime novels prior to this one and it provided some light relief. There was a warmth to the writing and a hope despite the emotion of the plot. The setting of Devon evokes the majestic breadth of the British weather! The whole tone of the book is uplifting and positive, facing life's challenges and finding happiness in unexpected ways.
Secrets at the Last House Before the Sea is an enjoyable novel about love, hope and grief with a huge splash of family drama thrown in.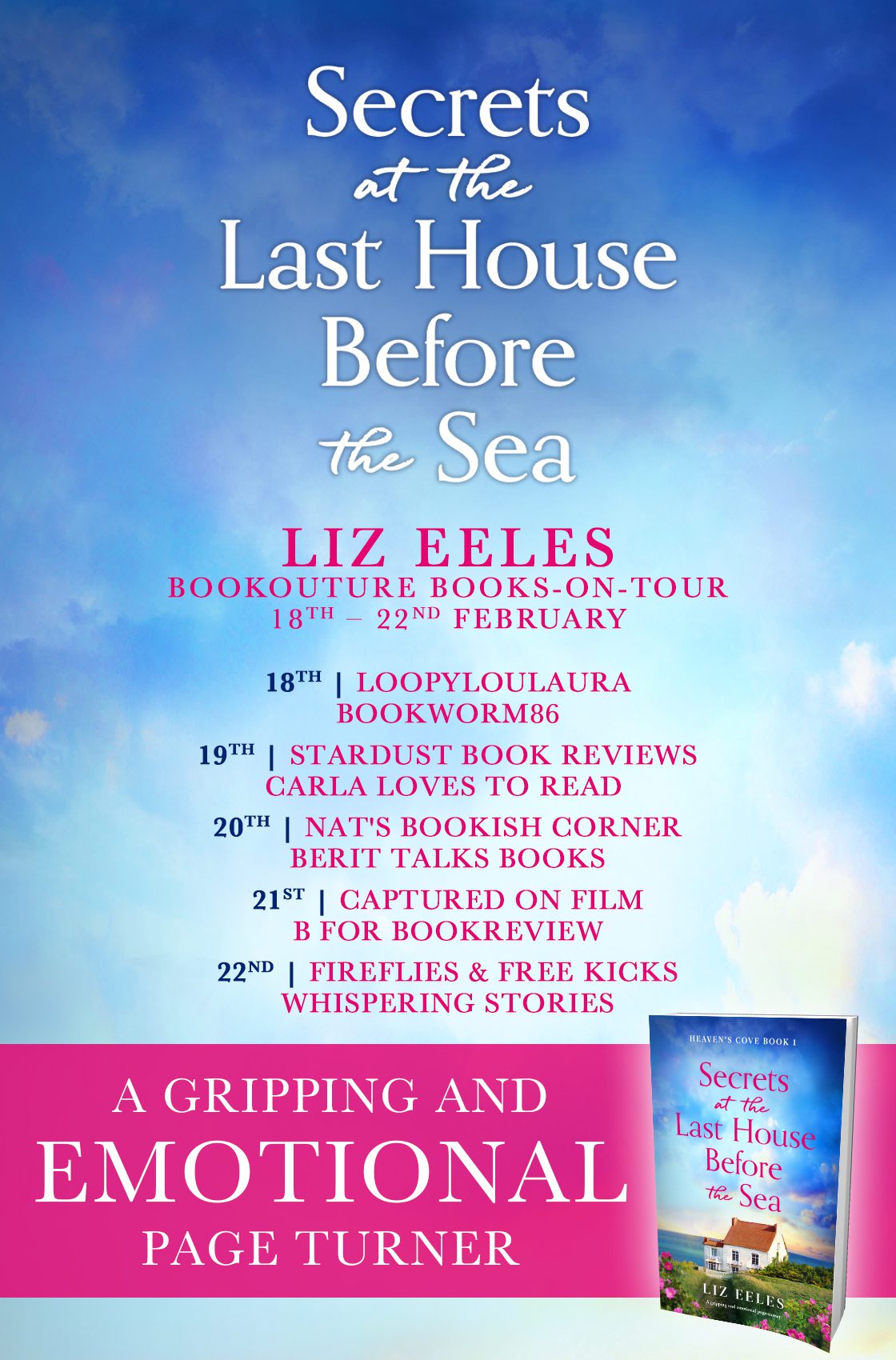 Liz Eeles' Media Kit:
Title: Secrets at the Last House Before the Sea: A gripping and emotional page-turner
Publication day : 18/02/21
Author:  Liz Eeles
Buy Links:
Description:
From the attic of Driftwood House there are stunning views of the deep green sea and sapphire sky. But Rosie can't tear her eyes away from the faded photograph in her hands, and the words written on the back that will change everything…
Back in the tiny seaside village of Heaven's Cove after the death of her mother, all Rosie Merchant wants is to hide her tears, rent out her childhood home, and get back to her 'real' life, away from the gossiping villagers and wild Devon weather she escaped from years ago.
She's surprised to find a smiling man in hiking boots – local farmer Liam – waiting on the stone doorstep. His kind offer to help clear crumbling, isolated Driftwood House is hard to refuse, and despite Rosie's determination not to let anyone get close, soon they're walking and laughing together along the clifftops. As clouds scud across the endless sky and green waves crash against the shore, Rosie is reminded that nowhere is more beautiful than home.
Then, up in the attic of Driftwood House, Rosie stumbles across a photo which exposes the heart-stopping truth about how her mother came to live at Driftwood House years ago… and Liam only seems concerned about the implications for his own nearby farm. Did he know this painful secret all along, and should she run from Heaven's Cove for good? Or will facing up to her devastating family history mean Rosie can finally put down roots in this beautiful place?
Get whisked away to the rugged, sweeping Devon coastline in this gripping story about old secrets, learning how to trust, and finding where home is. Fans of Debbie Macomber, Barbara O'Neal and Mary Alice Monroe will adore this gorgeous and uplifting read.
Author Bio:
Liz began her writing career as a journalist and press officer before deciding that she'd rather have the freedom of making things up as a novelist.
Being short-listed in the Corvus 'Love at First Write' competition and the Novelicious search for a new women's fiction star gave Liz the push she needed to keep putting pen to paper …. and 'Annie's Holiday by the Sea' (her first published novel) is the result.
Liz lives on the South Coast with her family and, when she's not writing, likes to spend time walking by the sea, and trying to meditate. Her ambition is to be serene one day …. she's still got a long way to go.
Author Social Media Links:
Website: N/A