Nessa is a struggling single mum without a home or a job. She inherits a letter and the key to a cottage from her grandmother and this gives her a chance for a fresh start. But the cottage is scheduled for demolition so she must fight for the past and her future.
The Key to the Last House Before The Sea is a warm and emotional novel. It is the fourth book in Liz Eeles' Heaven's Cove series but would work as a standalone novel.
Nessa is finding life tough at the moment. Her ex is useless and her mother in law is overbearing. Her employer retired and closed the business so she has no work and her grandmother just died. She is shocked to inherit the deeds and a key to a derelict cottage. But this also seems doomed as the area is due to be redeveloped. Whilst staying at a guest house, she meets Gabriel who is a city slicker and reveals that he is the property developer about to destroy her final chance at a fresh start.
There is a wonderful tension between Nessa and Gabriel. He has a softer side which we have knowledge of thanks to the alternating perspectives. His father is domineering and doesn't appreciate what he perceives as weakness. Gabriel's artistic side is crying out to be released and I was keen for Nessa to see his hidden qualities. Both characters need to find the courage to stand up to their family and be confident in themselves.
The scenery is brought to life through vivid descriptions. I was swept up in the story of the main pair but it was also nice to catch up with characters from the previous books. The tone of the book is uplifting as the plot centres around being true to one's self whilst appreciating the natural world, friendships and family.
The Key to the Last House Before The Sea was a wonderful book and may be my new favourite book in the series!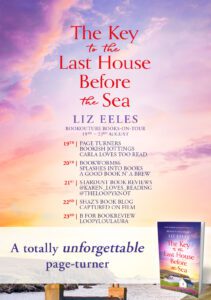 Book Description:
Tears trickling down her cheeks, she recognises her grandmother's writing scrawled across the manila envelope. Inside is an engraved key that sits heavy in her hand. Will the tumbledown cottage be the start of a new life – or will it tear her life apart?
With her back to the sparkling sea, single mum Nessa stands in the doorway of the stone cottage her grandmother left behind. If she can just fix up the crumbling walls and make the empty hearth cosy again, it will be the perfect home for her little daughter Lily – and their only option if they want to stay in the village of Heaven's Cove. But a rap on the door soon shatters her plans…
Although Gabriel Gantwich has a smile on his handsome face, the papers he's clutching say his father's company owns the house. They plan to knock it down, destroying Nessa's last link to her family history – and Lily's last hope for a home in Heaven's Cove.
Reeling, Nessa is furious that an outsider could take away her child's future. She has just thirty days to renovate the cottage – and prove it's hers. As she and Gabriel clash over every detail, Nessa barely notices that even though they argue, their talks are fuelled by the same passion. And beneath his tough exterior, Gabriel appreciates the beauty of the sunset bathing the clifftop cottage in soft pink light as much as she does…
But one stormy night, Nessa gets a desperate phone call about Lily. Forced to choose between her family's past and her daughter's future, will she end up losing everything? Or will Gabriel finally realise what truly matters, and help Nessa make this beautiful place a home?
An absolutely stunning, heartbreaking and uplifting read that will sweep you away to the wild Devon coast. Perfect for anyone who loves Trisha Ashley, Debbie Macomber and Jean Grainger.
This book can be enjoyed as a standalone.
Author Bio:
Liz began her writing career as a journalist for newspapers and magazines before moving into the health sector as a communications manager and press officer. The low point of her career was abandoning an interview with Cliff Richard after two questions because she was about to faint – her excuse is that she was newly pregnant at the time.
Liz is from Gloucestershire but now lives by the sea in West Sussex with her husband and grown-up daughter. She spends a lot of time meaning to meditate, avoiding exercise, and missing her son who lives in London.
Buy Link:
You can sign up for all the best Bookouture deals you'll love at: http://ow.ly/Fkiz30lnzdo