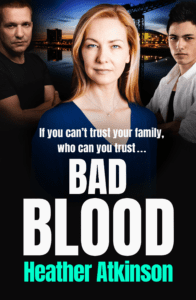 Glaswegian Jamie Gray is head of the Blood Brothers, offering a protection racket on the Gallowburn estate. His gang are respected for removing drugs and keeping the peace. But the peace is shattered when Jamie's dad is released from prison and tries to start drug trafficking from another Glasgow gangster Toni McVey. Meanwhile Jamie is embroiled in the court case against his girlfriend's father and alleged murderer but Allegra is secretly waiting abroad for him…
Bad Blood throws you into the action straight away and doesn't let up! This is the second book in the series but the first that I have read. There is a continuance of plotlines from the first book and the author catches us up quickly.
Jamie is an intriguing lead character. His actions are questionable but he has a sense of honour that makes him likeable. He is devoted to his Blood Brothers as well as his family and girlfriend Allegra. The arrival of his dad makes him consider his role in the community but he attempts to stay true to his mum's values. He seems quite mature but is in fact only in his early 20s.
Being a gritty crime thriller, there is violence, and danger is never very far away. I admit that I did get a little weary of the frying pan wielding and eyeball gouging references. However they did show that strength of reputation is important to maintaining position!
I enjoyed the dialogue which had an authentic feel and fully evoked the Scottish accent. This helped to reinforce the setting and brought the characters to life. The book is written in the third person so that we can see multiple perspectives, both the characters we like and those that are trying to destroy them.
Bad Blood is a compelling gang crime thriller and I hope to read the first in the series as well as find out what happens next! Absolutely loved it!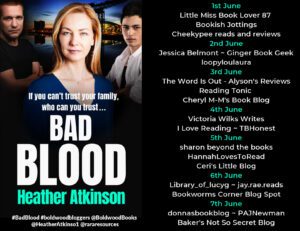 Bad Blood book blurb:
If you can't trust your family, who can you trust…?
Glasgow gangster Jamie Gray and his fellow Blood Brothers rule the Gallowburn Estate with an iron fist. No one messes around on their turf without consequences.
But when Jamie's erstwhile dad, Jason Gray, reappears after many years away – some of them spent behind bars – the Blood Brothers are drawn into the murky and dangerous world of the toughest gangster of them all – The Queen of Glasgow, Toni McVay.
Toni is the head of the most powerful organised crime family in Scotland and, as the psychotic leader enjoys scooping out the eyeballs of those who displease her, Jamie has no option but to do her bidding.
With the love of his life Allegra still missing, his enemies closing in, and his family's safety at risk, Jamie Gray faces the battle of his life.  But with his father's bad blood running through his veins, and the bravery and brains he has inherited from his mother Jackie, Jamie has all the tools he needs to survive.

Author Bio:
Heather Atkinson is the author of over fifty books – predominantly in the crime fiction genre.  Although Lancashire born and bred she now lives with her family, including twin teenage daughters, on the beautiful west coast of Scotland.   Her new gangland series for Boldwood, set on the fictional Gallowburn estate in Glasgow began with Blood Brothers in December 2020.

Social Media Links