Jamie Gray, head of the Blood Brothers which firmly controls the Gallowburn estate, is longing to give it up to be with the woman he loves. She is hiding abroad and her father is in prison for her murder. Jamie must face threats from other gangs and the police before they can be reunited…
Blood Pact is the 4th book in the Gallowburn series. I have previously read and reviewed book 2, Bad Blood. There are mentions of events in previous books but each could be read as a standalone.
The tension is high as Allegra's father and Jamie's other enemies attempt to bring him down. He has the support of the infamous Toni McVey but is fearful of her reaction when he has to tell her that Allegra is still alive and that he is leaving to be with her.
The plot develops swiftly and we see multiple third person perspectives so we know who Jamie's enemies are and how they plan to destroy him. The Blood Brothers are easy to like and have a vulnerable side despite their lifestyle choices.
There is violence as you would expect from a book of this genre. However, this is countered by an emotional side. I really enjoy the family dynamics and banter as I feel they offer a more rounded understanding of the characters. The dialogue is written to show the Scottish accent which again adds a realism to their interactions.
Blood Pact is a gritty and gripping gang crime novel.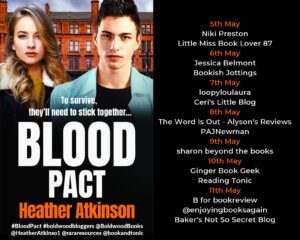 Blood Pact
To survive, they'll need to stick together…
After the defeat of the rival Gordon and Thompson families, the Blood Brothers' reputations as feared lieutenants of the McVay clan are firmly established. The Gallowburn has become an untouchable stronghold in their capable hands.
However, danger rears its head in another form – Jamie's deadliest foe, Cameron Abernethy. Still fighting to be released from prison, Cameron decides to use the Lawson family, the Blood Brothers' biggest rivals, to discover his daughter's whereabouts.
With his enemies getting closer, and the police on his tail too, Jamie has some impossible choices to make. This is his last chance to live the life he's dreamed of with the woman he loves, but first he's got to make sure he's not caught or killed…
Author Bio –
Heather Atkinson is the author of over fifty books – predominantly in the crime fiction genre. Although Lancashire born and bred she now lives with her family, including twin teenage daughters, on the beautiful west coast of Scotland. Her new gangland series for Boldwood, set on the fictional Gallowburn estate in Glasgow begins with the title Blood Brothers and was published in December 2020.

Social Media Links