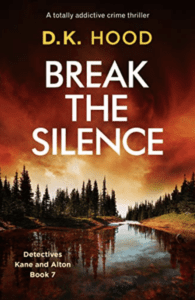 TRIGGER WARNING: this book deals with rape and suicide, please do not read on if this may affect you
Alton and Kane arrive back from a break to a suspected suicide of a college student. Her autopsy reveals she was drugged and gang raped prior to her death. Did Chrissie kill herself due to the trauma of her final hours or was she murdered to keep her quiet?
Soon, other students are found dead and again it is unclear if the deaths are suspicious. All of the men killed were suspected of being involved in the gang rape. The lead player of the football team is a potential victim or killer, but which is he?
Jenna Alton is horrified by the idea of a serial killer but also the despicable rapes of drugged women. Her sympathy with the murdering of the football team is limited, especially as they are all being secretive to avoid prosecution for the sex crimes.
Medical examiner Wolfe's family are brought into danger again when Seth from the football team decides he wants Emily to be the next rape victim. This causes tension within the police team and serves to make the situation more urgent and personal.
The plot is fast paced and compelling from the beginning and I was instantly hooked. We see viewpoints from the police, victims and murderer so we can see the effect of the crimes from multiple perspectives, and gives us an emotional link to the events.
Alton and Kane's relationship is still simmering at the friendship stage but I hope they find happiness together soon!
This book can be read on its own or as part of the series. The police team characters have past cases to bind them together but the mentions in the book will make you want to read those other books rather than detract from the current case.

DK HOOD Media Kit:
Title: Break the Silence     
Author:  DK Hood
PUBLICATION DAY: 04/11/2019
BUY LINKS:
Description:
Her head throbbed as she stumbled up the stairs. Music vibrating and the sound of partygoers fill her head as she walks into one of the dark, empty rooms. As she sits on the bed, she hears the unmistakable sound of the door locking behind her. She is not alone.
The body of college student Chrissie Lowe lies curled into a ball – long red cuts along her arms suggesting how she had met her death. Detective Jenna Alton is called in to investigate.
Purplish bruising on Chrissie's upper arms and thighs make Jenna believe there is more to Chrissie's death than others suspected, and she soon finds herself following the trail of the student's last few moments, leading her to the scene of a party that had ended just hours before Chrissie's body was found.
When Jenna hears reports that Chrissie was seen going into the bedroom of a college football star, she knows that finding out what went on behind that closed door could be the key to finding out how Chrissie ended up dead. But then another partygoer dies in an apparent accident at the campus gym just hours later, and Jenna is convinced the deaths are connected.
Facing a wall of silence from the student population, Jenna has to act fast to find the killer, but soon another student is found dead on the campus. As Jenna sends in one of her deputies undercover, she prays that she hasn't just sealed his fate. Can she find the killer before any more lives are taken?
Fans of Lisa Regan, Karin Slaughter and Rachel Abbott will love this totally gripping page-turner from bestselling crime author D.K. Hood. You won't be able to put it down!
**Each Kane and Alton book can be read as part of the series or as a standalone**

Author Bio:
I've always had a wicked sense of humour and was the kid who told the ghost stories around the campfire. I am lucky to have family all over the world and have spent many vacations in places from Paris France to Montana USA and Australia. I use the wonderful memories from these visits to enhance my stories.
My interest in the development of forensic science to solve crime goes back many years. I enjoy writing crime, mystery and thrillers. With many stories, waiting for me to write I'll look forward to sharing many spine-tingling stories with you.
D.K. Hood is an active member of International Thriller Writers.
Author Social Media Links: