I did not want this book to end! But it was so good that I was reading faster and faster!
It is hunting season but a serial killer is on the loose and hunting human prey. Sheriff Jenna Alton and Dave Kane need to find the killer before more tourists end up dead.
The violence of the attacks and murders is quite graphic at times but understated at others so this enables the reader's imagination to take over…
I was surprised to learn this is the 4th book in the series as it works so well as a stand alone book.
There is a spark between Kane and Alton that I hope will be developed in later books. They put themselves in danger for each other but also to protect their community.
We see inside the killer's mind thanks to a two strand plot narrative. The killer is not revealed until right at the end but we see the murders from his perspective.
I absolutely loved this book from start to finish!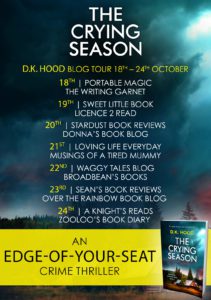 Book information:
Title: THE CRYING SEASON   
Author:  DK Hood
PUBLICATION DAY: Oct 18th 2018
BUY LINKS:
Description:
The light fades as she runs for her life, the forest now becoming quieter around her. The only noise she hears is the sound of footsteps following her…
It's hiking season in Black Rock Falls and the small town in Montana is flooded with visitors. But when a hiker finds a human skull on a deserted trail in the woods that surround the town, Detective Jenna Alton is called in to investigate.
With no missing persons reported, Jenna has no leads. Then her team makes a shocking discovery – the body of another hiker, a young man, tied to a tree and riddled with bullets. Could the two murders be linked?
As more bodies are found, Jenna and her deputy David Kane know that they must venture deep into the forest to find and face the killer. But nothing can prepare them for what awaits them there…
If you love Robert Dugoni, Karin Slaughter and Rachel Abbott you'll love this nail-biting thriller from D.K. Hood.
Author Bio: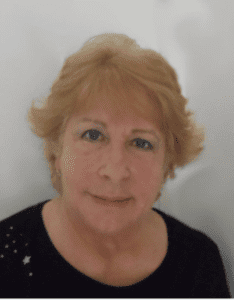 I've always had a wicked sense of humour and was the kid who told the ghost stories around the campfire. I am lucky to have family all over the world and have spent many vacations in places from Paris France to Montana USA and Australia. I use the wonderful memories from these visits to enhance my stories.
My interest in the development of forensic science to solve crime goes back many years. I enjoy writing crime, mystery and thrillers. With many stories, waiting for me to write I'll look forward to sharing many spine-tingling stories with you.
D.K. Hood is an active member of International Thriller Writers.
Author Social Media Links:
[amazon_link asins='B07BBPR37R,B07FQGK99N,B078G2SWRJ,B074N9F4MP,B07FTNRJYZ' template='ProductCarousel' store='tiredmummyblog-21′ marketplace='UK' link_id='cbe93d9b-d25a-11e8-8814-cbb33a1ef55b']