Kane and Alton's latest case sees them teaming up with FBI agents to investigate a mass murderer with a multiple personality disorder. The case has them confused: some murders are quick like professional hits, others sadistic and designed to prolong the torment before death occurs. What is the significance of the crow feather left at the scene…?
The action is fast paced and there is plenty of anticipation and tension as the main characters are in danger. The body count is high: the forensic detail is unpleasant but not gratuitous. It is presented factually rather than to shock and fits well with the clinical nature of the medical examiner Wolfe.
As with D.K. Hood's other books, we see the viewpoint of the murderer in Her Broken Wings in order to gain an insight into his actions. I enjoyed the psychological detail about the murderer's split personality but felt that it could have been expanded a little and the history of the character explored to provide further depth to his motivation, however this did not spoil my enjoyment of the book.
Alton's relationship with Kane doesn't seem to have progressed much but they are obviously secure and comfortable with each other. Their personal and professional relationships merge seamlessly.
Once again, another excellent thriller from the wonderful D.K. Hood.
All of this series work perfectly well as stand alone novels but I personally enjoy seeing the development of the characters and their relationships. (Take a look at my reviews of books 4, 5, 6 and 7 (The Crying Season, Where Angels Fear, Whisper in the NIght, Break the Silence.)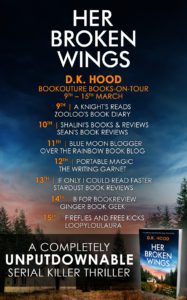 DK HOOD Media Kit:
Title: HER BROKEN WINGS     
Author:  DK Hood
PUBLICATION DAY: 09/03/2020
BUY LINKS:
Description:
The sound that wakes her from sleep is unmistakable—someone is in their house. She listens as heavy footsteps start up the stairs, and as the bedroom door is flung open, she doesn't even have time to scream…
Following a frantic emergency call in the middle of the night, Detective Jenna Alton arrives at a secluded family home to find the body of Lucas Robinson lying in a pool of his own blood in his bed. His wife Carol, shivering in shock, has just watched an intruder shoot her husband in cold blood.
As Jenna investigates the murder, she soon discovers that Lucas was having an affair. And when his mistress is also found strangled to death in the center of the small town, Jenna is convinced that the murderer is living amongst them.
When the killer escalates with a mass murder at a remote ranch on the outskirts of Black Rock Falls, Jenna knows for sure that she's dealing with a murderer more twisted than any other she's faced before.
As the town begins to fill with revelers for the annual Halloween festival, Jenna has to work fast to stop any more lives being taken. But as the killer always seems to be one step ahead of the investigation, has she finally met a murderer who can outsmart her?
Fans of Robert Dugoni, Karin Slaughter and Rachel Abbott will love this compelling and nail-biting crime thriller from bestselling author, D.K. Hood.
**Each Kane and Alton book can be read as part of the series or as a standalone**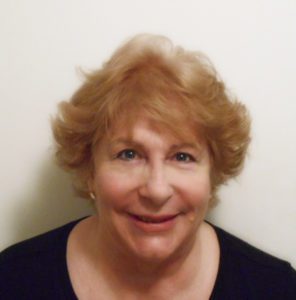 Author Bio:
I've always had a wicked sense of humour and was the kid who told the ghost stories around the campfire. I am lucky to have family all over the world and have spent many vacations in places from Paris France to Montana USA and Australia. I use the wonderful memories from these visits to enhance my stories.
My interest in the development of forensic science to solve crime goes back many years. I enjoy writing crime, mystery and thrillers. With many stories, waiting for me to write I'll look forward to sharing many spine-tingling stories with you.
D.K. Hood is an active member of International Thriller Writers.
Author Social Media Links: