Kane and Alton are still recovering from their last encounter with a serial killer but now another strikes!
Sky and Ella are travelling home from college when they see someone with a broken down car. They stop to help but the man attacks Sky. Ella runs for her life and escapes. When the police arrive at the scene there is no sign of Sky, the man, or either vehicle. They want to believe Ella's story but she could also be a suspect…
Sky's brother Doug and Ella decide to go out searching for Sky and agree to meet up with someone online to help. On their way to meet 'Jim', they spot a crashed car with two women inside. One is already dead. 'Jim' arrives and kidnaps Doug and the injured woman, leaving Ella behind. Kane and Alton are struggling with the weather, illness and the aftermath of their last case. Can they trust Ella's story and can they find the killer before he takes more victims…?
The past seems to be catching up with both lead detectives which brings both fear and sorrow. This is a continuing thread that was present in the last book and no doubt will remain relevant in subsequent books (PLEEEEEASE let there be more in the series!)
Meanwhile, we see events from the perspective of the killer and his victims. There is not a lot of graphic detail about their injuries and deaths but the disposal of previous victims is described so we know what happens and left to our own imaginations to consider the full horror.
This is a brilliant book. I was slightly worried as I enjoyed the

previous book

so much that I was afraid of setting my expectations too high, but there was no need as this was just as good as the last one!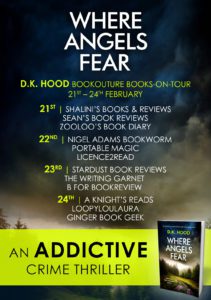 Title: WHERE ANGELS FEAR   
Author:  DK Hood
PUBLICATION DAY: Feb 21st 2019
BUY LINKS:
Description:
As she opened her eyes and took in her surroundings, a feeling of terror ran through her weakened body. She knew exactly where she was. And she knew exactly what was about to happen to her…
When Ella Tate stumbles into Black Rock Falls, her exhausted and bloodied body is a terrifying sight, but not as frightening as the story she has to tell. Ambushed on their way into town when they stopped to help a man by the side of the road, Ella and her friend Sky ran when he pulled a knife on them. But only one of them got away.
As Detective Jenna Alton investigates the case, she looks into the history of missing persons in the town, and uncovers more cases – all young people. All stopped on the same stretch of road into town. All vanished without a trace.
When a distinctive pink sweater belonging to Sky turns up in Black Rock Falls, Jenna follows the trail to a derelict building on the outskirts of town. But she isn't prepared for what lies behind those doors. Can she stop the killer before more lives are lost?
If you like Robert Dugoni, Karin Slaughter an
d Rachel Abbott you'll love this nail-biting thriller from D.K. Hood.
**Each Kane and Alton book can be read 
as part of the series or as a standalone**
Author Bio:
 

I've always had a wicked sense of humour and was the kid who told the ghost stories around the campfire. I am lucky to have family all over the world and have spent many vacations in places from Paris France to Montana USA and Australia. I use the wonderful memories from these visits to enhance my stories.
My interest in the development of forensic science to solve crime goes back many years. I enjoy writing crime, mystery and thrillers. With many stories, waiting for me to write I'll look forward to sharing many spine-tingling stories with you.
D.K. Hood is an active member of International Thriller Writers.
Author Social Media Links: