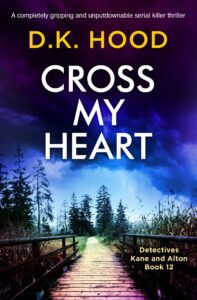 Jenna Alton's home is under attack and her life in danger. A killer from her past, a copycat or a coincidence? In the woods, couples are being hunted and murdered by a killer with a crossbow, again echoing a previous killing spree that Jenna investigated. But that killer is in prison…
Cross My Heart is the twelfth book to feature Alton and Kane. It does draw on events in previous books but there is enough content to understand what has happened in the past if you are not reading them in order.
Jenna seems much more vulnerable in this book. Kane has been physically weakened by events in the last book and this combined with the attack on her home makes her lose confidence. Once again Jenna is in the crosshairs of a killer's attention. This increases the tension as we wait to find out if the team can catch the killer before he attacks Jenna.
The majority of the book shows the police perspective but we also have chapters dedicated to the killer's viewpoint and his victims. This allows us to see the motivation and anticipate (or dread!) what might happen next.
As usual, the pace is relentless. However, it is the characters and their relationships which drive the plot along. Alton and Kane continue to have this intense friendship which teeters on attraction but they hold back due to their pasts. Jenna locks horns with lawyer Sam Cross again. The supporting police characters bolster the book by providing opportunities for the main characters to develop a personal and softer side.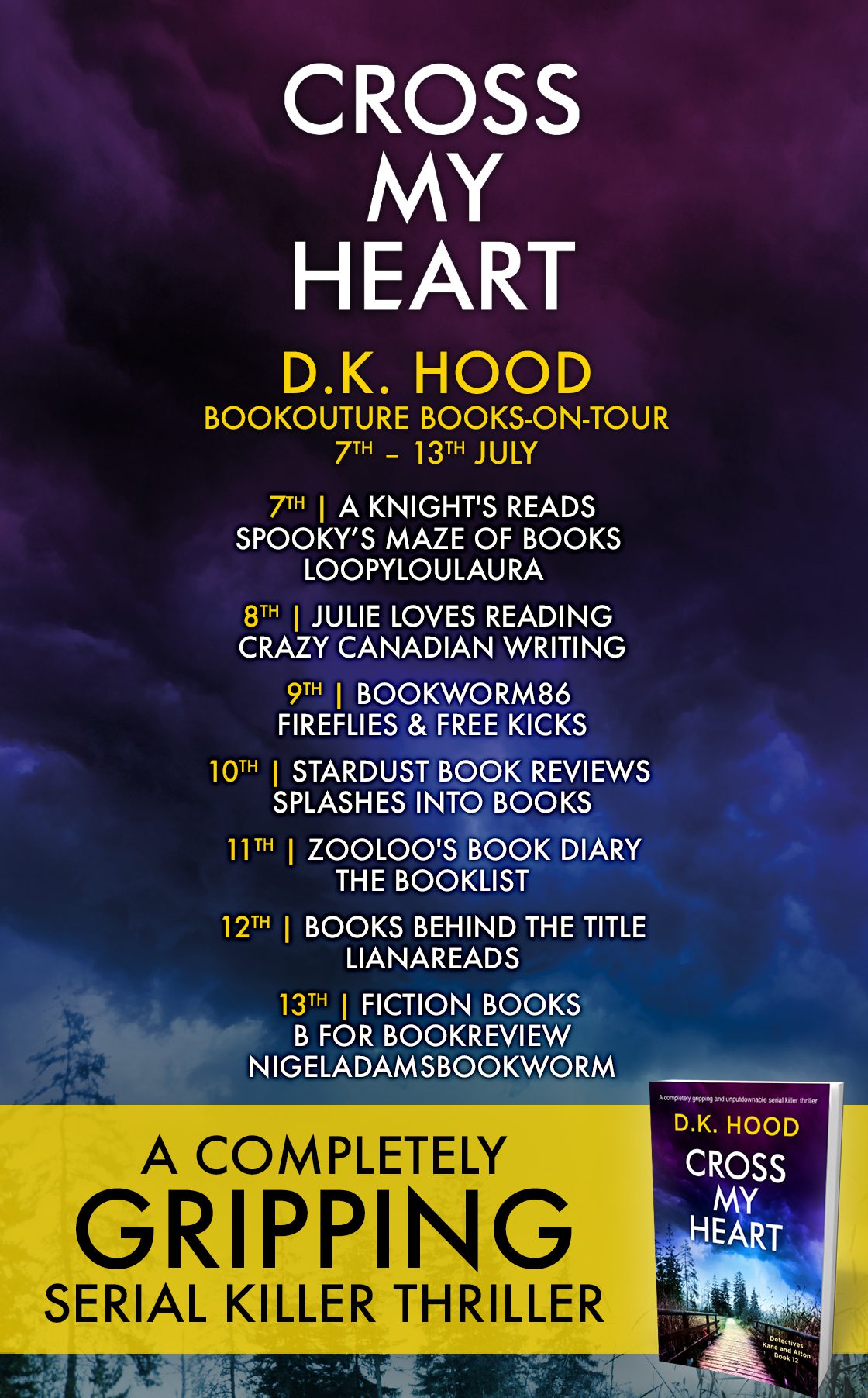 MEDIA PACK
Book: Cross My Heart
Author: DK Hood
Pub Day: 07/07
Buy Links
About the Book:
She wakes to the sound of footsteps outside her secluded home. Moving toward the window, she scans the dark woods around her and freezes. A tall figure in a long dark coat holds a crossbow pointed right at her. She blinks as lightning cracks overhead. But when she opens her eyes, the figure has vanished…
When the body of a man is found in the dense forest surrounding Black Rock Falls, Sheriff Jenna Alton immediately sees disturbing similarities with a past case—the same murder weapon, the remote beauty spot, and the way the victim is perched against a tree with no sign of a struggle. But the killer in that case was jailed for life.
Jenna suspects a copycat killer and her fears are confirmed when, during the town's Halloween festival, the bodies of two tourists are found further down the remote trail. They too had been hunted down and murdered in another picturesque spot and all Jenna can hope is that the man behind bars can help her catch the twisted monster behind these new deaths.
As she comes face to face with the vicious murderer who has haunted her dreams for years, she is sure he knows more than he's telling her. Looking deep into Jenna's eyes, as if they're two old friends catching up, he promises to take his final revenge on her for locking him up. But before she can learn more, he is dragged away by prison guards.
When a sudden emergency call takes Jenna and her deputy David Kane deep into the woods, Jenna senses something is very wrong about the situation. As a strange calmness falls over the forest, a familiar face emerges from the shadows. Will this killer be the one who finally takes down Sheriff Alton, and can they make it out of the forest alive?
If you love heart-racing crime books by authors like Lisa Regan, Melinda Leigh and Kendra Elliot, you will love this exciting thriller from USA Today bestselling author D.K. Hood.
**Each Kane and Alton book can be read as part of the series or as a standalone**

Author Bio
D.K Hood is THE WALL STREET JOURNAL, USA TODAY, and Amazon Bestselling Author of The Kane and Alton Series. She is a member of International Thriller Writers, Australian Crime Writers Association, and Sisters in Crime Australia.
D.K. lives very quietly with her husband enjoys her beautiful garden filled with birds and water dragons. The dogs and cats in her stories are reminiscent of her wonderful companions.
Social Media