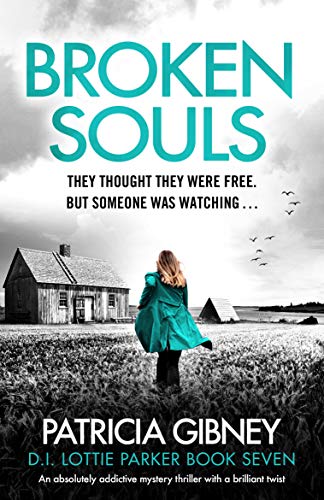 Broken Souls is the seventh book in the DI Lottie Parker series (read my review of book 6 Final Betrayal).
Two apparent suicides are discovered but both are wearing wedding dresses so suspicions are raised that the deaths were in fact murders. One of the women had an 8 year old daughter but she is now missing: has the murderer taken her or has she been abducted by someone else?
Lottie's personal relationship with Boyd has become complicated. They have agreed to marry biut are keeping it quiet until she feels ready to tell her children and face her superior officer. This has led to tension and Boyd starts behaving oddly, taking time off and making secretive visits to his mother. Lottie thinks he may be having an affair…
There is a careful balance in Patricia Gibney's narrative between the suspects and the police perspective. This has the effect of allowing us to gain a deeper understanding of their behaviours and draw our own conclusions. There are heartbreaking glimpses into the mind of the killer as we see flashbacks to his unhappy childhood.
The plot is delivered in quite a fast pace through short chapters to represent the urgency of the case, in particular finding the lost little girl. A whole heap of suspects are acting suspiciously so Lottie and her team have a tough job getting them to reveal the truth. The victims and suspects are all linked together in a complicated web of family ties and business dealings.
Broken Souls is full of mysteries and secrets; it will keep you guessing!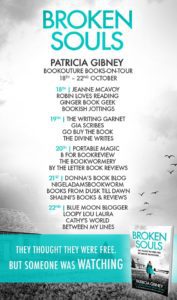 Book Description:
'She shivered, though the kitchen was warm. Icicles of foreboding trickled down her spine. With trembling hands she whipped back her hair at the nape of her neck. As she turned away from the window, she missed the shadow passing by.'
One dark winter's morning, bride-to-be Cara Dunne is found hanging in her home, dressed in her wedding dress, with a lock of hair removed. Detective Lottie Parker is first on the scene. Looking at Cara's bruised and battered body, she wonders who could have hated her enough to kill her at the happiest time of her life.
The case takes a darker turn that afternoon with another shocking discovery – the broken body of a second young woman, pushed from the roof of the hospital where she worked. Fiona Heffernan was also due to be married, and her body is clad in a wedding dress, a lock of her hair cut off.
The killings seem so personal that Lottie is convinced the girls have been killed by someone they knew. When she goes to break the news to Fiona's family, she's on the alert for anything suspicious. But then she makes a discovery that causes her blood to run cold – Fiona's eight-year-old daughter Lily didn't return home from her dance recital that afternoon. Terrified that Lily will be the next victim of a twisted and dangerous individual, Lottie takes the case into her own hands, risking her life when she comes face-to-face with the killer…
If you love Karin Slaughter, Robert Dugoni and Rachel Caine, you'll be hooked by this heart-stopping thriller from Patricia Gibney. Broken Souls will keep you guessing until the very last page!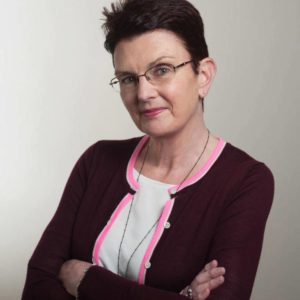 Author Bio:
Patricia is the million-copy bestselling author of the DI Lottie Parker series. She yearned to be a writer after reading Enid Blyton and Carolyn Keene and even wanted to be Nancy Drew when she grew up. She has now grown up (she thinks) but the closest she's come to Nancy Drew is writing crime! In 2009, after her husband died, she retired from her job and started writing seriously. Fascinated by people and their quirky characteristics, she always carries a notebook to scribble down observations. Patricia also loves to paint in watercolour and lives in the Irish midlands with her children.
Social Media Links:
 @trisha460