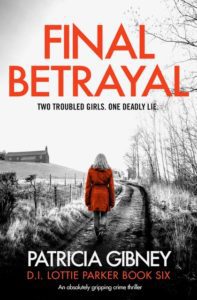 Final Betrayal is the 6th book to feature Irish detective Lottie Parker, and it is the first that I have read.
Lottie's team is in disarray due to a colleague's death and another on maternity, and she may have a serial killer on her hands as well as a murderous half sister.
Two young women are found murdered days after a man (Conor) is released from prison who was convicted on the evidence of one of them. Soon, the other witness and her lover are murdered as well.
Lottie is forced to consider if Conor's conviction was sound or if mistakes were made in the original investigation. Did the witnesses lie and why? Has Conor got his revenge or are other secrets ready to come to light?
Meanwhile, Lottie's insane sister, Bernie, absconds from her medical facility. Lottie's daughters are kidnapped but who has taken them, Bernie or Conor or someone else?
There is emotion in this book due to the relationship of Lottie with her children, a relationship that many working mums will understand. Lottie is also trying to develop a romantic relationship with Boyd but work gets in the way. Grief is a major theme in the book as Kirby struggles to deal with the death of his colleague and lover, while other characters cope with the murders of their loved ones.
Lottie is a really good lead character and I could identify with her dilemma of balancing her work and personal life. The book works well as a stand alone novel but I definitely want to catch up on the previous books.
This book literallly had me guessing until right at the end. Everyone seems to be hiding something and although we see things from other characters' perspectives, it is impossible to work out the solution to the case until the author decides to enlighten us!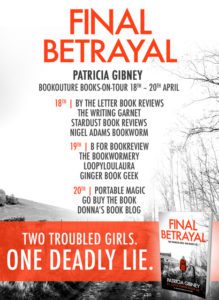 FINAL BETRAYAL by Patricia Gibney
'She lifted the flap of the envelope and pulled out the single white page. As she opened it up she stared, open mouthed. Four words were typed on the page. I am watching you.'
When Amy Whyte and Penny Brogan leave a local nightclub in the early hours of Sunday morning and don't arrive home, their families are beside themselves with worry. Conor Dowling has just been released from prison, a man full of hatred for Amy, the girl who put him behind bars in the first place.
The case is given to Detective Lottie Parker, when the girls' blood-soaked bodies are found, days later, in a derelict squat. Chillingly, both girls are clutching silver coins in their hands – what message is this killer leaving behind? All the signs point to Conor but his alibi is water tight.
As Lottie examines Penny and Amy's final days alive in a desperate search for clues, two more girls are found stabbed to death in a luxury apartment complex. Caught up in what is fast becoming her toughest case yet, Lottie is unaware that somebody is watching her every move.
Then Lottie's two daughters, Katie and Chloe suddenly disappear from the town centre. Terrified that the killer has her girls, the stakes have never been higher for Lottie.
But as Lottie puts everything on the line to find her daughters and solve the case, she's about to find herself in terrible danger – someone has a personal axe to grind with her and they know the best way to get to her is to hurt the ones she loves the most.
If you love Karin Slaughter, Robert Dugoni and Rachel Abbott, you'll be hooked by this heart-stopping thriller from Patricia Gibney. Final Betrayal will keep you guessing until the very last page.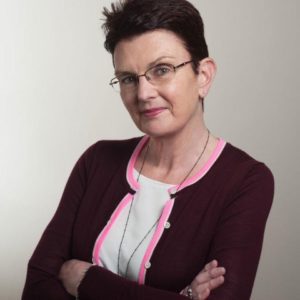 About the author: 
Patricia lives in the midlands of Ireland. She is an avid crime reader so naturally she found herself writing in the crime genre. To date, (July 2018) Patricia has sold over ONE MILLION COPIES in the LOTTIE PARKER series.
A life changing experience in 2009, with the death of her 49 year old husband, meant she had to give up her career, and over the following few years, she rekindled her love of art and writing.
Initially Patricia wrote and illustrated a children's book, but her real ambition was to write a novel. And she did!
In January 2016, she joined with Ger Nichol of The Book Bureau Literary Agency. In July 2016, Patricia signed with Bookouture for four DI Lottie Parker crime novels.
The Missing Ones (Book 1 to feature Lottie Parker) published in March 2017 and to date has reached a high of number 2 in Amazon UK Kindle charts and number 6 in the US. It also achieved number 1 in all its categories. It is a bestseller in UK, US, Canada and Australia.