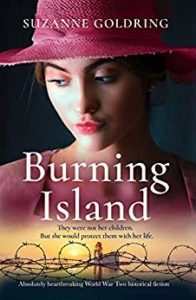 In 1944 the Jews of Corfu are gathered together ready for deportation. One family has sent their younger children to live with another family. Can any of them survive the Naiz Final Solution?
In the present day, James and Amber have left their high powered and highly stressful careers to start up a restaurant and hotel in Corfu but can they find the peace and contentment they are looking for?
Burning Island is written from 4 perspectives, James and Amber in the present, and Rebekka and her sisters in the past.
I was quite annoyed with James for his increasing selfishness which drives a wedge between him and his wife. His cameraderie with Greg and their immaturity and campaign against a local hotel are unpleasant and chilldish. Amber is a much more sympathetic character, friendly and kind to the locals and trying to keep her marriage happy.
I admit to feeling a little frustrated as I found the historical part of the book much more important than the parts in the present day, but they only accounted for a third or less of the actual book. The tragedy of Rebekka's experience and her hopes for her sisters make this a highly emotional book and an excellent reminder never to let the atrocities of the Nazis be forgotten, nor the heartbreaking stories of barbarity and bravery.
The Corfu atmosphere is beautifully evoked in Suzanne Goldring's rich narrative. The historical note at the end adds a poignancy and realism to the tragedy which is mentioned but not openly discussed: the forced deportation of the island's Jews which resulted in almost all dying on the journery or being sent straight to the gas chambers. It is a horrifying reminder of the grotesque aspect of humanity but the glimmer of hope still shines as represented in the book by the Greek couple Georgiou and Agata saving two members of the Jewish family.
The ending is rather abrupt but then we also discover the tragic outcome for Rebekka when she arrives in Auschwitz. Overall, this is a terrible, wonderful read.
Take a look at my review of Suzanne Goldring's previous WW2 based book: My Name Is Eva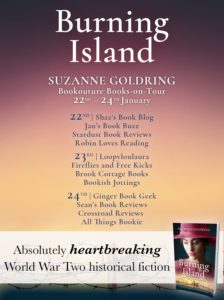 Book Description:
They were not her children. But she would protect them with her life…
Corfu 1944. Though they don't know it, five-year-old Matilde and three-year-old Anna have kissed their mother for the last time. The Nazis have reached their sun-scorched home, and they are being taken to a place of safety, on the north-eastern tip of the rocky island, to be hidden at great risk by kindly Agata and her husband until the terrible war is over.
Matilde and Anna's tears are soothed by Agata's bedtime stories, but she is always alert. So far no soldiers have ventured down the steep rocky hillside to their secret haven, but Agata knows they are constantly scouring the island for missing Jews. And then, on a day when Agata's husband is away, a German soldier appears…
2016. Under a baking June sun, Amber and her husband arrive in Corfu from England, hoping for a fresh start. But not everyone is pleased by their arrival, and with the pressures of pregnancy, the couple grow further apart. Desperate to find a sense of belonging for herself and her unborn child, Amber finds herself drawn to the local story of two little girls, left by their parents and hidden for their own protection.
But there are some who would rather Amber left Corfu's terrible history well in the past. Can Amber uncover the heart-breaking truth about the two little girls, and what happened after a German soldier took a swim in the bay by their house? If she does, can the secrets of the past help her find happiness, or send her running from the island, alone?
A gripping, heart-wrenching and compelling read about the shadows at the heart of the sun-drenched island of Corfu and survival against all odds. Fans of Victoria Hislop, The Nightingale and The Tattooist of Auschwitz will fall in love with Burning Island.

Author Bio:
Following an eventful career as a public relations consultant, specialising in business and travel, Suzanne Goldring turned to writing the kind of novels she likes to read, about the extraordinary lives of ordinary people. Her debut novel MY NAME IS EVA draws on her experience of volunteering in a care home and was partially inspired by a cache of wartime love letters which were saved from the flames. Her second novel, BURNING ISLAND, is set in Corfu, a place of fun and beauty but also tremendous tragedy.
Suzanne writes in her thatched cottage in Hampshire and a seaside cottage in Cornwall.
Buying Links: