This is an utterly beautiful book, powerful yet understated.
A 90-something year old woman in a nursing home reflects on her life, the triumph and the tragedy. Her husband Hugh died during the Second World War but she continued to write to him mouring his loss and that of the life they had planned to share together..
Despite the brevity of their time together, her love endures for the rest of her life. She vowed to avenge his death by tracking down the officer she considers responsible for ordering an impossible mission. Now the truth of the past is close to being uncovered, and in the present day Evelyn needs to use her training to misdirect her family and police in order to protect herself.
My Name Is Eva is an absolutely fascinating and compelling book. Evelyn's lifestory is revealed to us in a non linear narrative so the past is revealed in tandem with her letters to Hugh and snippets of her life, but not always chronologically.
Evelyn's strength of character is revealed thtough her responses to the post war devastation she encounters helping refugees in Germany and to the personal trauma she copes with. Her resilience makes her a wonderful character to read about and I absolutely loved the way she acts in the present day to fool her niece and the police investigating the guns and blood stained clothing found in her house.
Historically, I found the book very accurate and moving as it demonstrates the hardships faced by Germans and the liberated concentration camp survivors. Author Suzanne Goldring is not afraid of showing the brutality of mankind and shows through Evelyn's experience that atrocities were not confined to the war.
Overall, an impressive and deeply moving book, sehr gut!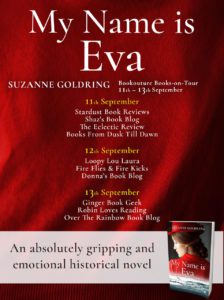 Book Description:
You can pay a terrible price for keeping a promise…
Evelyn Taylor-Clarke sits in her chair at Forest Lawns Care Home in the heart of the English countryside, surrounded by residents with minds not as sharp as hers. It would be easy to dismiss Evelyn as a muddled old woman, but her lipstick is applied perfectly, and her buttons done up correctly. Because Evelyn is a woman with secrets and Evelyn remembers everything. She can never forget the promise she made to the love of her life, to discover the truth about the mission that led to his death, no matter what it cost her…
When Evelyn's niece Pat opens an old biscuit tin to find a photo of a small girl with a red ball entitled 'Liese, 1951' and a passport in another name, she has some questions for her aunt. And Evelyn is transported back to a place in Germany known as 'The Forbidden Village,' where a woman who called herself Eva went where no one else dared, amongst shivering prisoners, to find the man who gambled with her husband's life…
A gripping, haunting and compelling read about love, courage and betrayal set in the war-battered landscape of Germany. Fans of The Letter, The Alice Network and The Nightingale will be hooked.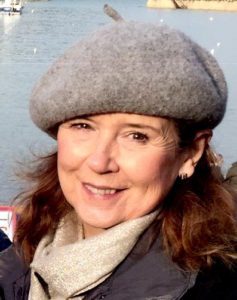 Author Bio:
Following an eventful career as a public relations consultant, specialising in business and travel, Suzanne Goldring turned to writing the kind of novels she likes to read, about the extraordinary lives of ordinary people. Two of her novels have been placed in the Winchester Writers' Conference First Three Pages of a Novel competition. Her novel The Way We Lied, can be read as a serial on her blog site suzannegoldring.wordpress.com. She is currently working on a novel about delusion,deception and death, set in Corfu.
Suzanne drew on her experiences of living in a timbered 14th century house, where she raised two daughters and a variety of livestock, to write Powerless. All her other novels are pure fiction and any resemblance to any persons living or dead is purely coincidental.
Twitter: @SuzanneGoldring