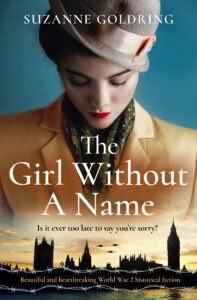 2004: Dick suffers a stroke but is desperately trying to communicate something to his daughter about the photo of a young woman that he has carried in his wallet for years. 1939: Ruby and other London children are evacuated to Devon. A friendship between Ruby and Stevie develops intolove over the 1940s but will they survive the war and get a happy ending?
I was immediately drawn into The Girl Without A Name. The description of Dick's stroke felt very realistic and his attempts to communicate to his daughter Billie were heartbreaking. The mystery of the girl in the photo is introduced to further grab the reader's imagination.
Then we are introduced to the past: WW2 is breaking out and children are being torn from their homes to find safety int he country. But some of the billets are not as pleasant as others. Ruby misses her mother desperately but she is not beaten like her friend Stevie who eventually runs away back to London, preferring the threat of bombs to the threats of a beating.
The descriptions of life during war time were authentic and unpleasant, especially Stevie's experiences searching bombed properties in London and then later in post war Palestine. He suffers from PTSD which explains his actions later in the book as he attempts to forget the terrible things he saw.
We know that Ruby is not Billie's mum or Stevie's wife so are aware that something will drive the pair apart. I felt like I was emotionally preparing myself for their separation while also enjoying their gentle courtship. However, there are some unpleasant scenes and descriptions, and I found Stevie's growing selfishness very sad to read even though I understood his PTSD was behind it.
It is not until the very end of the book that we discover the reason behind the title. I found myself feeling sad but content at the ending. The author's note at the end informs readers of the basis for the novel: a real life mystery.
The Girl Without A Name is wonderfully written and evokes the time period really effectively, bringing the characters and events into life vividly. I felt a huge emotional investment in Ruby and Stevie's relationship and loved reading their story.
I have previously reviewed other WW2 historical novels by Suzanne Goldring: Burning Island and My Name Is Eva.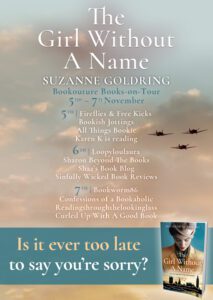 The Girl Without A Name book description:
September 1940. As the bombs of the Blitz fall on London, Ruby and Stevie are falling in love. United by a shocking experience when they were evacuees, Ruby believes that she understands Stevie like nobody else can. But then Stevie is sent abroad into danger and as Ruby waits, desperately, for letters with foreign stamps that never come, she begins to fear that he is lost forever.
August 2004. Billie has rushed to her father Dick's hospital bedside. A terrible stroke has robbed him of his speech, and he is a shell of the man he was before. But when Billie finds a crumpled black and white photo in his wallet of a smiling, dark-haired girl she doesn't recognise, Dick frantically tries to talk. Billie knows that he is trying to tell her something important, and she must ask the questions her father cannot. All she has to go on is the name he is just able to mumble. Ruby.
Billie tracks down Ruby's aunt, her only surviving relative, and learns that Ruby's life contained great love, but also great tragedy. Billie is determined to find out what happened to this brave woman, last seen leaving her home for a secret weekend away. Why did nobody miss her? And how is she connected to Billie's beloved father? Can Billie lay the ghosts of the past to rest, even if it means revealing the darkest secrets of her father's life and breaking her own heart?
A completely compelling and heartbreaking read, this is the story of the courage of a young woman in wartime and another woman's quest to right the injustices of history. Fans of The Letter and The Nightingale will be hooked on The Girl Without a Name.

Author Bio:
Following an eventful career as a public relations consultant, specialising in business and travel, Suzanne Goldring turned to writing the kind of novels she likes to read, about the extraordinary lives of ordinary people. Whether she is working in her thatched cottage in Hampshire or her seaside home in North Cornwall, Suzanne finds inspiration in the secrets hidden by everyday life.
Buy Links: