1915: Florrie and Edith are teenagers during the First World War. Edith is desperate for news of her sweetheart but is both disappointed and relieved each time the list of casualties and deaths is announced. 1999: Kate is their great niece and discovers her boyfriend has been cheating on her. She moved into Florrie and Edith's former home and begins to sort through their possessions…
The Shut Away Sisters is a dual timeline novel set in the First World War and 1990s about different generations of a family in London. Both timelines were very emotional due to grief, fear, the hardships of war and the failure of a relationship in the present.
Grief significantly impacts the lives of Florrie and Edith and leads on to their status as maiden aunts as Kate knows them. I think there is an important message about seeing the elderly as people with life and loves as we have. War and society have changed significantly over the last century so it was fascinating to read the experiences of the teenaged girls.
Florrie is gentle and kind, and I would have love Kate to have had more opportunity to speak with her in the modern timeline. I struggled to like her sister Edith although I understand her grief shaped her actions and behaviour. Kate is a warm and loving character and I was incensed by her philandering boyfriend. I am relieved she had the courage to stand up for herself but wish she'd had the confidence to do it sooner as their relationship had been coasting for a while.
I loved the wartime perspective to see what life was like for the women and children left behind. We usually associate rationing with WW2 so it was a new angle to see it in place in the 1910s. The comparison between the Spanish Flu and recent covid was too close for comfort!
The Shut Away Sisters is an enchanting novel about love and family. I have previously reviewed other historical novels by Suzanne Goldring: The Girl Without A Name, Burning Island and My Name Is Eva.

The Shut Away Sisters book description:
Two ordinary sisters. A long and brutal war. A heroic sacrifice…
London, 1915. As German bombs rain down on the East End of London and hungry children queue for rations in the blistering cold, fifteen-year-old Florrie is forced to grow up fast. With her father fighting in the muddy trenches, Florrie turns to her older sister Edith for comfort. But the war has changed Edith. She has grown quiet, with dark shadows under her eyes, and has started leaving the house at night in secret. When Florrie follows her sister through the dark and winding streets of London, she is shocked by what she discovers. But she knows she must keep her sister's secret for the sake of their family, even if she herself must pay the ultimate price…
Years later Kate, running from her broken relationship, is sorting through her dead aunt Florrie's house, which she shared with her sister Edith. As she sits on the threadbare carpets, looking at photos of Florrie during the war, she notices the change in her aunt – from carefree young girl with a hopeful smile to a hollow-cheeked young woman, with dark sad eyes.
Determined to put her family's ghosts to rest, Kate must unearth the secret past of her two aunts. Why is there a hidden locked room in the little house they shared? What is the story behind the abandoned wedding dress wrapped in tissue and tied up with a ribbon? And when Kate discovers the tragic secrets that have bound her family together, will she ever be able to move on?
A heartbreaking historical novel of war, tragedy and the sacrifices we make for those we love. Fans of Fiona Valpy, Kristin Hannah and Victoria Hislop will be hooked by The Shut-Away Sisters.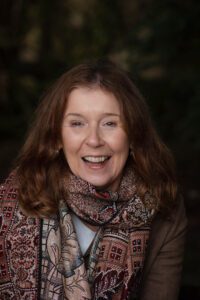 Author Bio:
Following an eventful career as a public relations consultant, specialising in business and travel, Suzanne Goldring turned to writing the kind of novels she likes to read, about the extraordinary lives of ordinary people. Whether she is working in her thatched cottage in Hampshire or her seaside home in North Cornwall, Suzanne finds inspiration in the secrets hidden by everyday life.
Buy Links: