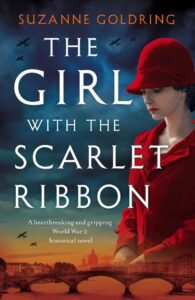 1943 Florence: Gabriella and her little brother Riccardo are anxiously living from day to day under Fascist rule. The sights and experience of war will live with them for a lifetime. 2019 London: Sofia is organising an exhibition of her father's art but heads to Italy to try to understand his imagery.
The Girl With The Scarlet Ribbon is a dual timeline historical novel set mainly in Florence during WW2 and the present day.
Sofia in 2019 wants to uncover the inspiration for her father's paintings. Through the dual timeline we discover the wartime experiences that shaped his childhood and the grief and loss that have featured in his art ever since.
The devastation of war and the mistakes of youth are brought to life as we follow the hardships faced by Gabriella and Riccardo. I feel that the author has extensively researched the geographical area, culture and history. The girl with the scarlet ribbon is a secondary character yet has a profound effect on the siblings but we don't discover the extent until the end of the book.
The writing style is vivid and descriptive. The many mentions of Italian food will make your tummy rumble even with the lack of resources available during wartime. Emotion is high and wonderfully described, often heartbreaking as the children struggle to process what is happening to their community.
All of the characters are represented authentically although I felt quite annoyed with Riccardo's widow as she relentlessly complains about their marriage but never confronted him. The characters are complex and very human, bringing their experiences to life within the pages.
The Girl With The Scarlet Ribbon is an absorbing and heartbreaking historical novel.
Florence, 1943. A missing painting. A war-scarred city. A brave young girl on a black bicycle risking her life for the country she loved…
As the bells toll and arrogant soldiers torment her family, fourteen-year-old Gabriella is determined to act. She seeks out her old friend Stefanina, an unlikely member of the Italian resistance with her dark curls and scarlet ribbon. Soon the two girls are criss-crossing the river with deadly information in their bicycle baskets. But then one terrible day Stefanina disappears…
London 2019.Sofia is mourning the loss of her father, a famous painter. Desperate to feel closer to him, she begins to go through his paintings of wartime Florence, a time in his life he would never talk about. But then she realises one is missing…
Determined to learn more, she discovers that he had a sister she never knew about. She flies to Florence, the place of his tortured memories, to meet her aunt Gabriella, an elegant old woman living in a palazzo filled with roses. Therein a little bedroom, locked away from the world, she finds the missing painting, a tiny picture of a beautiful girl with a scarlet ribbon.
As Sofia uncovers the story behind the hidden painting, a tale of extraordinary bravery and terrible betrayal emerges. But will understanding her family's haunted past bring her peace, or further heartbreak?
A completely compelling and heartbreaking story of a beautiful city, a violent war and a young woman's daring. Fans of The Alice Network, The Nightingale and My Name is Eva will be captivated by The Girl with the Scarlet Ribbon.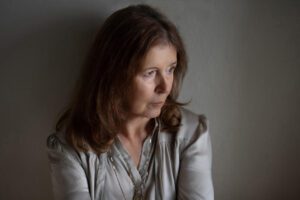 Author Bio:
Following an eventful career as a public relations consultant, specialising in business and travel, Suzanne Goldring turned to writing the kind of novels she likes to read, about the extraordinary lives of ordinary people. Whether she is working in her thatched cottage in Hampshire or her seaside home in North Cornwall, Suzanne finds inspiration in the secrets hidden by everyday life.
Buy Links:
Audio:
Listen to a sample here: