Can You See Her? No, really! Rachel thinks she has become invisible. At the beginning of the book we meet Rachel as she undergoes a psychiatric assessment after confessing to committing a number of murders.
This is a really fascinating book to read. Rachel's character is very realistic and the tone of voice she uses in the first person narrative is really natural. The tangents her thoughts go on, and the descriptions of her thought processes are humorous and engaging.
We also see police interview transcripts which give us another view of events and insights into the other characters. This raises questions about Rachel's guilt and shows us that actions can be misconstrued.
I felt a close connection with Rachel as a mother and wife who sometimes feels undervalued. I wanted to scream and shout on her behalf at the selfishness of her family and the lack of appreciation they have for all she does for them. The ending of the book is so emotional as secrets are revealed which change our perceptions completely.
Author S.E. Lynes has written a masterpiece of a book, thought-provoking with a surprisingly wise and emotional depth. The warmth of the style of Rachel's narrative is just beautiful whilst contrasting with the mystery of the murders.
Can You See Her is such an unusual book in terms of tone and style but also an incredible study of a middle aged woman, coping with life and her grief at lost opportunities.
I have previously reviewed The Women and The Lies We Hide by the same author.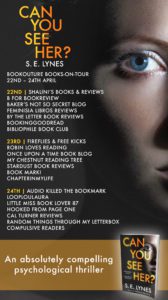 Can You See Her? Book Description:
Rachel Ryder doesn't understand how her life has changed so completely. When she was younger, heads would turn when she walked into a room. Her children needed her; her husband adored her.
But somehow the years wore that all away. She was so busy raising her children, looking after her parents… She can barely remember the woman she used to be, the one whose husband told her she was out of his league. The woman she is now just does the laundry and makes the dinner, and can walk into a room without anyone knowing she's there.
She knows that she hated feeling invisible. She knows that she thought: what would it take for you to see me again?
And now she's worried that she did something terrible. Because she's sitting in a room, being asked whether she killed someone.
When no-one is watching, you can get away with anything…
Can You See Her? is an utterly compelling and unputdownable psychological thriller, about how far you can push a woman before she will break. Perfect for fans of Gillian Flynn, A.J. Finn and The Silent Patient.
Author Bio:
After graduating from Leeds University, S E Lynes lived in London before moving to Aberdeen where she worked as a BBC Producer. In 2002, she moved to Rome with her husband and two young children. In 2007, after the birth of her third child, she returned to the UK and gained an MA in Creative Writing from Kingston University. Currently, she writes novels and teaches Creative Writing at Richmond Adult Community College.
@SELynesAuthor
Buy Links: