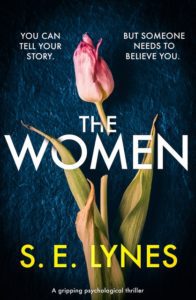 This book confused me a little to start with as it was incredibly rich with travel description. A few pages in, the psychological aspect of the book takes over and we see a couple at loggerheads before the man collapses. We are then taken back in time to the start of the relationship between Samantha and Peter and follow it through to the events in the first chapter.
It soon becomes clear that Peter is controlling, and gradually erasing Samantha's autonomy whilst giving the impression of being a loving partner. He pressures her into returning to work (in a position she doesn't want) after having their baby (which he also tricked her into having) but soon Samantha feels intimidated due to strange notes being left, possibly written by one of her students. Who can she trust?
It was really clever how S.E Lynes reveals the manipulative side of Peter over the course of The Women. I was willing Samantha to stand up to him. Even though the narrative is in the third person, we still get great level of insight into Samantha's feelings which allows us to care about her.
The Women in the book's title are the women that Samantha meets in her teaching role. At first she doesn't trust them but then discovers their link to Peter and is devastated by the implications for her own relationship. She draws strength from the other women and then plans her revenge on the man who has damaged them all…
I felt that the ending was fitting based on what Peter has done and the book ends with hope that the women can leave the past behind and work through the damage inflicted on them.
The Women has a powerful message about female friendships and abuse, whilst also being a great read!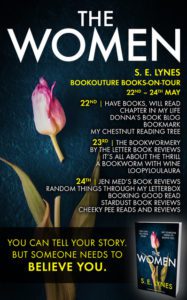 THE WOMEN by SE Lynes
The night she moves in with Peter, she's so happy, so exhilarated, so in love. Later, she will remember a much smaller feeling, a tiny one percent in her gut. And she will remember pushing that feeling aside…
Samantha Frayn doesn't know why Peter Bridges picks her – a nobody with bitten fingernails and a troubled childhood behind her – but she falls quickly. He's older, charming, likes fine wine and French films, and his beautiful home has real art on its walls.
Peter transforms Samantha's life in an instant. He sees the better version of herself – the one she's always wanted to be. It's only normal that there's a little friction, when she moves in, over domestic matters like where things are kept, or the proper times to eat, sleep and shower. She's lucky to be with someone who can help her find a new job, move on from childish friends, and speak with greater sophistication.
But as Samantha notices, more and more, Peter's temper, she starts to wonder if there might be consequences to breaking the rules of the world he has so quickly built around her.
And then she receives an anonymous note that makes her ask: is she the first woman to feel trapped by Peter? Is she being paranoid, manipulated, or could she be in danger?
You can tell the truth about your life, but someone needs to be listening. Someone needs to trust you. And someone needs to save you from the man you thought you loved.
About the author 
Amazon best selling author of 'intelligent and haunting' psychological thrillers VALENTINA, MOTHER, THE PACT and THE PROPOSAL. THE WOMEN is out for pre-order NOW.
S E Lynes is a writer, tutor and mentor. Formerly a BBC producer, she has lived in France, Spain, Scotland, Italy, and now lives in Greater London with her husband, three kids and her dog, Lola.
After the birth of her third child, she completed an MA in creative writing from Kingston University. Her critically acclaimed debut, VALENTINA, was published by Blackbird Digital Books in July 2016. Her second novel, MOTHER was published by Bookouture in 2017, followed by THE PACT and THE PROPOSAL in 2018. In August 2018, VALENTINA was published in a new edition by Bookouture.
Susie Lynes has also published two children's books in Italy: Il Leopardo Lampo and La Coccodrilla Ingamba, both available at Amazon.it
Find her on:
Facebook S E Lynes Author
Twitter @SELynesAuthor