Catherine Collins wants to see the world beyond Longbourn and jumps at the chance to escape her stepmother's demands. She travels north to act as governess to Sir Robert Courtney's mute daughter Matilda. But is she suited for the role…?
Catherine is the second book in the Cousins of Pemberley series by Linda O'Byrne, set 20 years after the events of Jane Austen's Pride and Prejudice. I have previously reviewed the first book in the series, Cassandra, which I LOVED!
Catherine is the daughter of Elizabeth Darcy's late best friend Charlotte and Mr Collins who has since married Elizabeth's sister Kitty. She spends her days caring for her little sister and being completely unappreciated by Kitty. There is a longing and free spirited side to Catherine which made me like her.
Meanwhile, Sir Robert Courtney is looking for a new wife after the death of Lucinda in a tragic accident which his daughter witnessed. He wants a governess with good common sense to care for and protect his daughter. His first impression of Catherine is not great and the pair develop a strained friendship as they clash over Matilda. But affection and romance simmer just below the surface.
The romance is hampered by the social differences between them but also the arrival of Abigail who is intent on becoming Robert's bride. I felt so outraged at her snide comments to Catherine which relentlessly make her feel inferior. Robert's brother Martin and aunt Honoria bring humour to the book.
I enjoyd the style of writing which is modern with Austen-esque phrases. The locations, fashion, social conventions and characters are all vividly described and bring the 1830s to life across the pages. The main couple are both easy to like and the book is fun to read as we await their acceptance of their true feelings.
Catherine is an enjoyable historical romance novel and a must for all Austen fans.

Buy Links
Book Blurb
Many years have passed since the dramatic events of Pride and Prejudice. In The Cousins of Pemberley series we follow a new generation of heroines – cousins with lives as different and interesting as those enjoyed by their mothers.
Catherine:
Catherine Collins, a very ordinary young woman – plain, quiet, often over-looked but possessing a reputation for having great common-sense.
Or so her distant cousin Elizabeth Darcy believes and so recommends her as governess for little Matilda Courtney.
Catherine travels to Northumberland, full of good intentions to do her best and be a credit to the family.
But appearances and reputations can be deceptive – Robert and Martin Courtney will soon learn exactly what type of girl Elizabeth has sent them.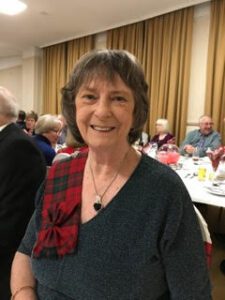 Author Bio
Fiction has always been my go-to world, a place of entertainment, excitement and imagination – I am told that I wrote my first story when I was four about a lady who had twenty children!   Sadly it has been lost for posterity.
I have been writing all my life in the time I could spare from having a "proper job", mostly for children under the name of Linda Blake, stories of ballet dancers, pony riding and talking animals!  Not all in the same book!
But my love of romance, a great tendency to say "What if..?" and the endearing characters of Jane Austen's Pride and Prejudice have now resulted in a series of books that will take the reader forward to the next generation of heroines.
I am retired, live in Kent and am a keen member of my local drama group.  Directing and acting take up a lot of my time – I have been given the onerous task of writing the Christmas pantomimes – but I still need to cope with a large garden, doing daily battle with the heron who thinks my pond is his own breakfast buffet and keeping in touch with friends and family scattered all over the world.
Follow her at: