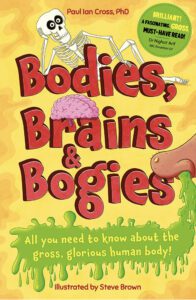 Bodies, Brains & Bogies is a non fiction book aimed at children aged 8+. It is full of facts and diagrams delivered with a comedic tone.
I loved the chatty style of writing that gives plenty of information but in an easy to digest way. As well as enjoying it myself, I gave this to Matthew to read but 9 year old Anya would have enjoyed it too. I could have read this to Zach and he would have understood the content, been amazed by the facts and interested in the illustrations.
The information is right up to date with mentions of Covid and Strictly 2021. There are also a few mentions of ants which we are particularly fond of in our family!
The subject of sex is dealt with but I felt that it was age appropriate. The tone was objective although I really liked the enthusiasm and excitement towards growing up which can feel daunting to children.
My favourite part of the book was the positive message in the final chapter. All of our bodies are different and equally brilliant!
Matthew's review: I really like this book. It was fun to read and had lots of interesting information and facts.
Bodies, Brains & Bogies
This fantastic title from Paul Ian Cross, the writer of How to Vanquish a Virus, takes the reader on a whirlwind tour of everything that's disgusting, unusual and amazing about the human body. Find out everything about poo, pus and bogies, while learning a whole lot about how our bodies work hard in hundreds of fascinating ways to keep us alive.
With tons of hilarious and informative illustrations, it includes lashings of Paul Ian Cross's trademark laugh-out-loud humour, in-depth knowledge and infectious optimism. It's the perfect funny, accessible way to discover everything you've ever wanted to know about the human body, but were too grossed-out to ask!
Purchase Links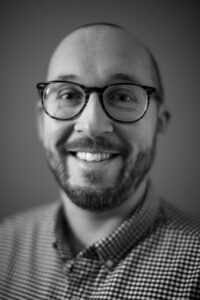 Author Bio –
Paul Ian Cross, PhD, is a scientist, researcher, writer, and educator from London, UK.
Paul works in clinical research (developing new medicines) and he's also a science communicator (presenting science to non-scientists). He specialises in vaccine development and has an interest in pharmacovigilance (the safety of medicinal products). His PhD research investigated the benefit-risk assessment of medicines, and how patients and the public can be more involved in their treatment decisions.
Paul's popular social media accounts (@DrPaulScience) are full of STEM-themed content for all ages, but particularly for parents and adults to share with the children in their lives. Paul is a member of #TeamHalo, a UN backed initiative where doctors, healthcare workers, and scientists share accurate information about healthcare, science, and the COVID-19 vaccines. In 2021, Paul was named as a 'Luminary' at the G7's Vaccine Confidence Summit, in recognition for his science communication work on social media.
In addition to his research career, Paul has a passion for introducing children to STEM subjects, particularly reluctant readers. By introducing science creatively, he aims to spark their interest, allowing them to gain confidence with their reading. As a previous reluctant reader himself, he understands how hard it can be. But it's all about making reading fun and interesting!
Social Media Links –