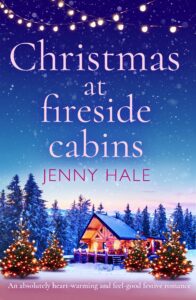 Lila Evans and her friends book into a cabin in the lead up to Christmas. Lila has no family so her friends are very important. Yet their lives force them to cut short their winter break leaving Lila alone. She has made friends with the lonely owner of the cabin, widow Eleanor and local coffee shop owner Theo. But her friendship with Theo is hindered by his secrecy.
Jenny Hale has put me right in the mood for Christmas (just as she did with Christmas At Silver Falls). The setting and weather descriptions give a warm and wintry feel to the book, and the romantic plot makes it a feelgood story to fall in love with.
Theo is dealing with issues that he is not quite ready to share. His secrecy is intriguing and draws the reader into the plot as we want to discover more. This is in direct contrast to Lila's openness and gentle manner. I found myself torn between wanting Theo to open up and wanting Lila to give him his privacy.
The loneliness of Lila, Theo and Eleanor is quite heartbreaking especially in the lead up to Christmas. There is an important message of thinking of others particularly during the festive season. I hope that the difficulties of 2020 will make us hug our loved ones a little closer and open our homes and hearts to lonely neighbours.
If you fancy a summer romance then why not try Jenny Hale's The House on Firefly Beach.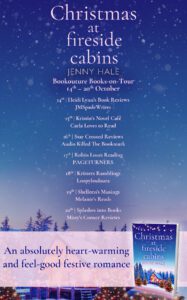 Jenny Hale Media Kit:
Title: Christmas at Fireside Cabins
Publication Day – Oct 14th 2020
Author:  Jenny Hale
BUY LINKS
Description:
Escape to the idyllic small town of Pinewood Hills in this enchanting romance, about falling in love under the mistletoe with a sprinkle of Christmas magic…
For Lila Evans, Christmas is the toughest time of year––a heartbreaking reminder of losing her father, and just how lonely she is… This year, she's organized a blissful getaway with her closest friends: just the remedy for the December blues.
The countryside resort of Fireside Cabins, tucked away in the snowy Tennessee hills, seems like this year's perfect setting to get into the festive spirit. But it's far from a winter wonderland––the crumbling cottage is falling apart, and the owner, a widow named Eleanor Finely, confesses that the cabins are on the brink of closure. Lila and her friends should pack their bags right there and then, but Lila can't bear to leave the tearful elderly woman. She clearly has no one, and Lila, more than anyone, knows how that feels.
In search of holiday cheer, the women find a local coffee shop. But the rugged, surly owner Theo Perry has an apparent aversion to Christmas, seeming downright angry when Lila asks for a peppermint latte. No one in the area knows who he is––but it's clear he's running from something.
Yet there's more to this small town than Theo's frosty reception. As much as his coldness infuriates her, Lila can't deny that on the rare occasions when he does smile, it feels like coming home. Plus, the cabins are just calling for some festive sparkle.
And, unexpectedly, Pinewood Hills could hold a new beginning for Lila… But can she save Fireside Cabins in time for Christmas? With a dusting of festive magic, spiced apple cider and sugarplum pie, could this be the first holiday she doesn't spend alone?
Indulge in this glittering page-turner that might just prove, at this magical time of year, that almost anything is possible. Christmas at Fireside Cabins is the perfect holiday treat for fans of Debbie Macomber, Susan Mallery and Sheila Roberts.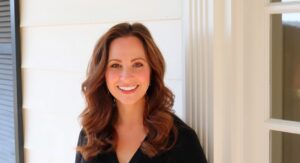 Author Bio:
Jenny Hale is a USA Today, Amazon, and international bestselling author of romantic contemporary fiction. Her books have sold worldwide, have been translated into multiple languages, and adapted for television. Her novels Coming Home for Christmas and Movie Guide Epiphany Award winner Christmas Wishes and Mistletoe Kisses are Hallmark Channel original movies.
She was included in Oprah Magazine's "19 Dreamy Summer Romances to Whisk You Away" and Southern Living's "30 Christmas Novels to Start Reading Now." Her stories are chock-full of feel-good romance and overflowing with warm settings, great friends, and family. Jenny is at work on her next novel, delighted to be bringing even more heartwarming stories to her readers.
When she isn't writing, or heading up her romantic fiction imprint Harpeth Road, she can be found running around her hometown of Nashville with her husband, two boys, and their labradoodle, taking pictures–her favorite pastime.
Author Social Media Links: