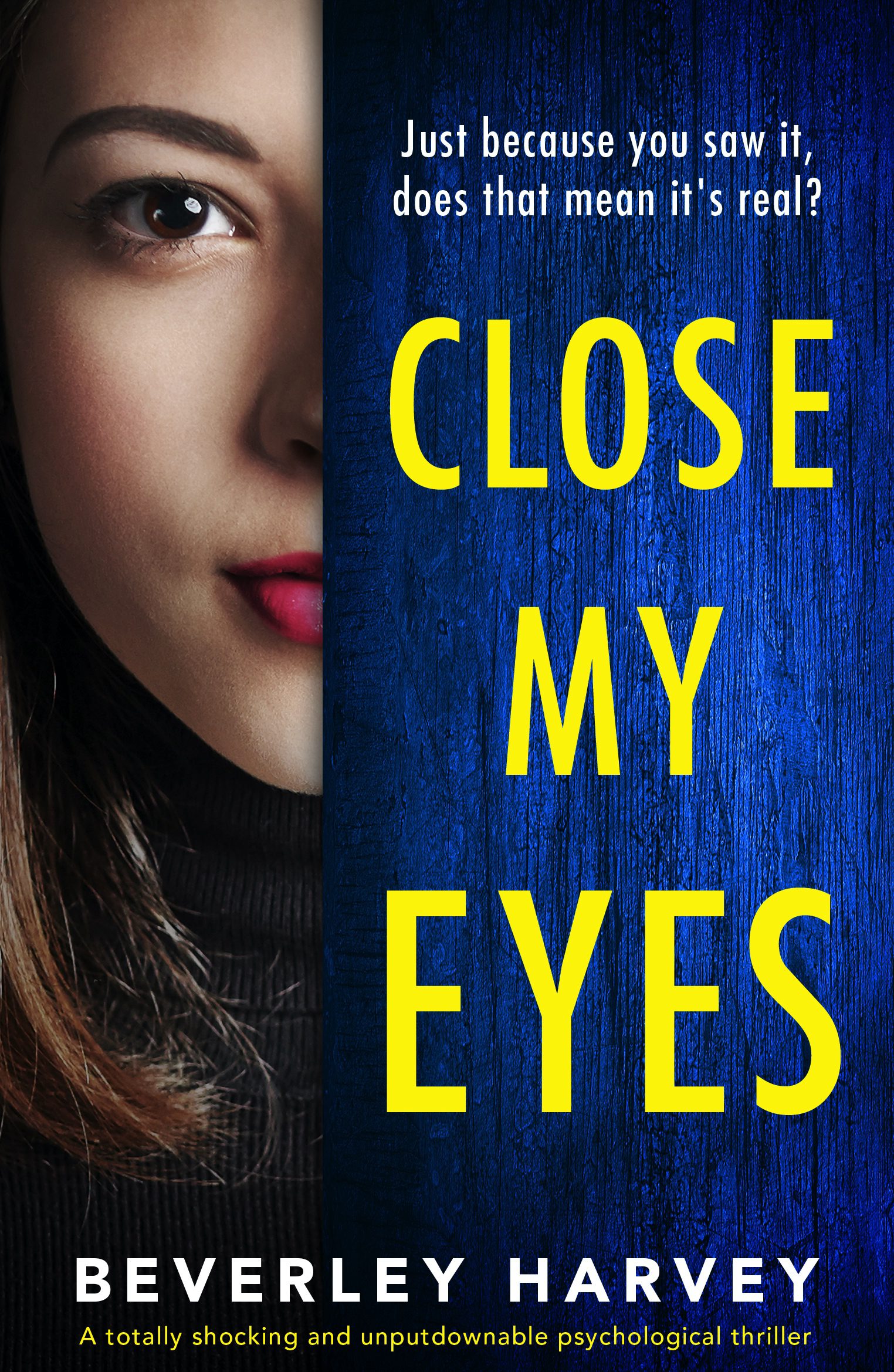 TRIGGER WARNING: this book deals with abuse and assault
Beth and Gemma are old friends, brought together by Beth's childhood friend Guy who is now Gemma's husband. After seeing another old friend, Beth begins to have flashbacks about events that took place when she was 13. Gemma's marriage is less perfect than she pretends but can she trust herself when the alcohol and sleeping pills seem to disappear much to easily…?
Close My Eyes is an intense psychological thriller featuring two main female protagonists. Both women seem quite happy at the start of the book but gradually fractures in their perfect lives begin to appear.
A chance encounter with a face from the past leads Beth to have panic attacks. Triggers from sights and smells keep triggering more attacks. She seeks counselling which reveals shocking facts about her past. Meanwhile, Gemma's husband Guy becomes increasingly cruel and controlling. The psychological control branches into physical violence in an insidious way.
I felt that there was a realism to both of the women and their circumstances. They are likeable so we want the best for them yet dread their situations worsening. There was a big plot twist but it was pretty obvious, however it was enjoyable to see how the author handled the developments.
There are other issues and subplots at work in the book. The gendered division of labour and the value of women's contribution to the household, the experience and importance of mental health therapy, the vulnerability of age and the impact on family members.
Close My Eyes is an engaging and enjoyable thriller due to the strength of the main two characters. I have previously reviewed The Perfect Liar by Beverley Harvey.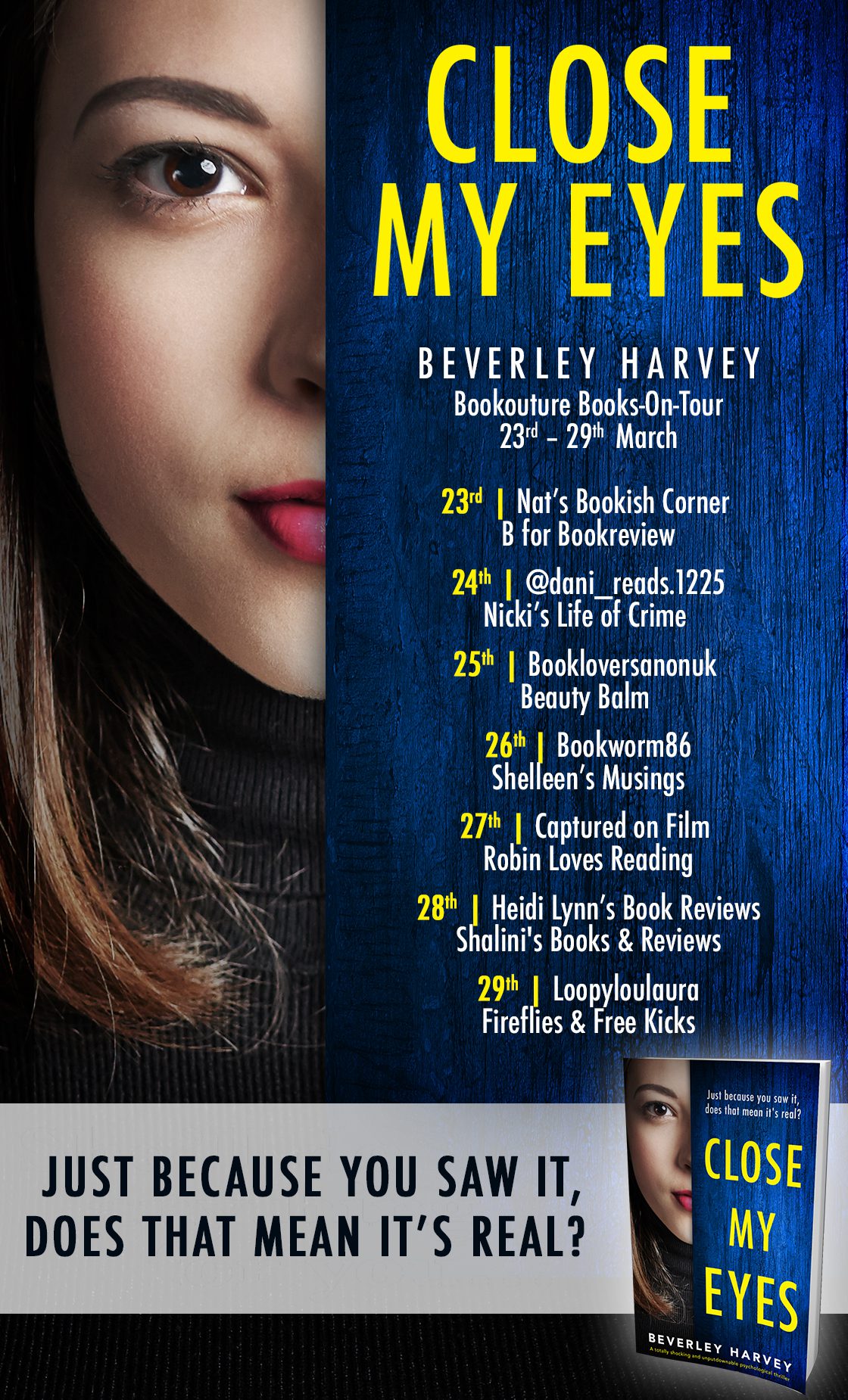 CURRENT Media Pack
Author:      Beverley Harvey
Book:                   Close My Eyes
Publication Day:  23/03/21
Buy LINK  
Description:
It starts with a chance sighting: a face from her past, someone Beth hasn't thought about for years. Suddenly she feels a terrifying wave of panic – the flash of a memory, of crushing weight and pain, and the flicker of firelight and smoke. Something in Beth's past has been disturbed… And nothing will ever be the same again.
You've started to remember…
Beth never had any reason to doubt her peaceful, happy upbringing. Then she suddenly starts getting awful flashes of an event from her past – a vicious attack from an unknown person. And she thinks it could be more than just a nightmare. But how could she forget something this big?
Someone wants you to forget…
With no husband or boyfriend to turn to, she asks her trusted family and old friends for reassurance, only to hear that it must all be in her head. Meanwhile, the flashes get stronger, more frightening, and more details start to come back to her – details she knows she couldn't have invented. But these are people who have known her all her life and have her best interests at heart. Who should she believe?
What will you risk to discover the truth?
Beth is determined to understand the meaning of these memories even if it means going it alone. But is she prepared for what she will find? Because the truth will ruin someone's life – and they will stop at nothing to keep the past forgotten.
A heart-stopping psychological suspense novel that asks: who would you trust the most? Your friends? Your family? Or your own mind? Fans of T.M. Logan, Claire McGowan and Lisa Jewell will be gripped by Close My Eyes.
Author Bio:
Throughout Beverley's many years spent working in advertising and PR, she had always wanted to write fiction. In 2015 a creative writing course inspired her debut novel, Seeking Eden, which was published in 2017. The sequel, Eden Interrupted, soon followed. Beverley's third novel – her first with Bookouture – fulfils a long-time goal to publish a psychological thriller.
Born in Yorkshire, and raised in Kent, Beverley currently lives in West Sussex with her partner and their adorable terrier. When not writing, you'll find her reading, walking the dog or listening to rock music.
or follow Beverley on Twitter @BevHarvey_
Author Social Media Links