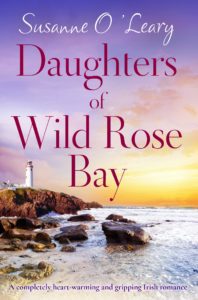 Jasmine Delon returns to Ireland with a broken heart. She hopes to rebuild the relationship with her mother who she has kept an arm's length for the last year. She becomes immersed in the local community and enjoys the beautiful environment. Even love may be on the cards…
Warning: don't read this book if you are on a diet! Food features heavily and the descriptions are mouthwatering. The gorgeous locality and landscape is also richly described.
Daughters of Wild Rose Bay is a warm, feel good book. Jasmine is a likeable main character, running away and hiding from her past. She has an opportunity to find love again and it is clear to us as readers that she should be with her best friend Aiden yet neither makes a move and she starts dating Connor instead. There is a romantic twist at the end of the book for her mum which Jasmine doesn't pick up the clues for but is fairly obvious to us.
This is an enjoyable romantic novel with splashes of emotion, humour, history and drama. I enjoyed finding out more about the Irish culture and language, as well as liking the warmth of the characters and gentleness of the plot.
Take a look at my review of Susanne's book Dreams of Willow House, some of the characters feature in this book too although it works perfectly well as a standalone novel.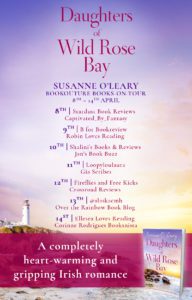 Publication Day Media Kit
Title: Daughters of Wild Rose Bay
Author:  Susanne O'Leary
Publication Day: April 8th 2020
Buy Links:
Description:
A heart-warming page-turner set on the Irish coast, where secrets hide, romance is waiting and there is every chance to make a new beginning…
Jasmine Delon feels completely lost: having just broken up with the man she thought was the love of her life, all she knows is that she can't face living alone in her empty apartment in Paris.
When she turns up at her mother's curiosity shop, nestled in Sandy Cove in Ireland, she hopes time with Sally will help heal her broken heart. Walks along the rugged coastline and nights under endless stars immediately make her feel at peace, and then she meets Aiden, a handsome chef in town, and sparks fly between them.
But a lot has changed since Jasmine last saw her mother. Sally is happier than ever with a charming new man in her life and Jasmine's not sure where she fits in. Then she's told about the ruins of an old village in a place nearby called Wild Rose Bay. The locals say it holds secrets about her mother's side of the family…
Is delving into their history the thing that can bring Jasmine and Sally back together or will it drive them further apart? And is Jasmine brave enough to give in to the call of the Irish sea for another chance at love?
Daughters of Wild Rose Bay is a warm, feel-good novel set on Ireland's gorgeous Atlantic coast. For fans of Sheila O'Flanagan, Debbie Macomber, Mary Alice Monroe and anyone who loves a story about second chances.
Author Bio:
Susanne O'Leary is the bestselling author of more than twenty novels, mainly in the romantic fiction genre. She has also written three crime novels and two in the historical fiction genre. She has been the wife of a diplomat (still is), a fitness teacher and a translator. She now writes full-time from either of two locations, a ramshackle house in County Tipperary, Ireland or a little cottage overlooking the Atlantic in Dingle, County Kerry. When she is not scaling the mountains of said counties, or keeping fit in the local gym, she keeps writing, producing a book every six months.