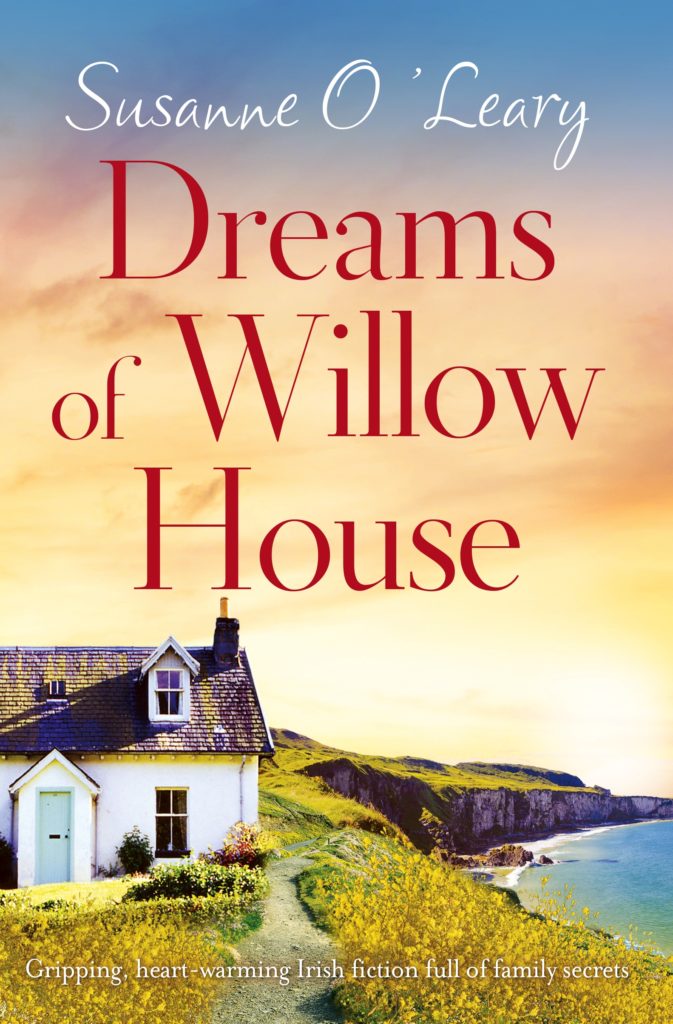 Cordelia is living a lie and waiting to be caught out.
After the death of her Irish mother Frances, she is all alone in the world. Then she watches her favourite author Philomena on TV say she wants to find her long lost cousin Frances. Cordelia contacts her and says Frances was her mother despite knowing that the surnames are not a match. She and author Phil become close but sadly Phil dies. Cordelia travels to Ireland for Phil's funeral and is nervous about being caught out by her supposed family.
The McKenna family welcome Cordelia, grateful that she looked after Phil in her last few months but concerned that there is no evidence they were actually related. When they discovers she has inherited part of Phil's family home and estate, Cordelia decides to investigate her mother's history and find out if she could be the long lost family she has been dreaming of.
Dreams of Willow House is a warm feel-good novel about love and family. Cordelia is a kind person and is driven by her loneliness to lie about her family history. She genuinely loved Phil and is devastated by her death. Now she must begin to get to know her cousins and gain their trust, whilst fearing that she is not actually related and that they will reject her.
Cordelia also develops a romantic relationship with Declan during the course of the book. This adds an extra dimension to the plot as well as showing us another side to her character.
This book is actually the third in the Willow House series but the first that I have read. The books works perfectly well as a stand-alone novel, although now I want to read about the back stories to Maeve and Roisin.
I personally enjoyed finding out more about the history, language and geography of Ireland which provides a rich background to the narrative. Susanne O'Leary has evoked and captured the magic of Irish and it is no surprise that Cordelia feels at home at last.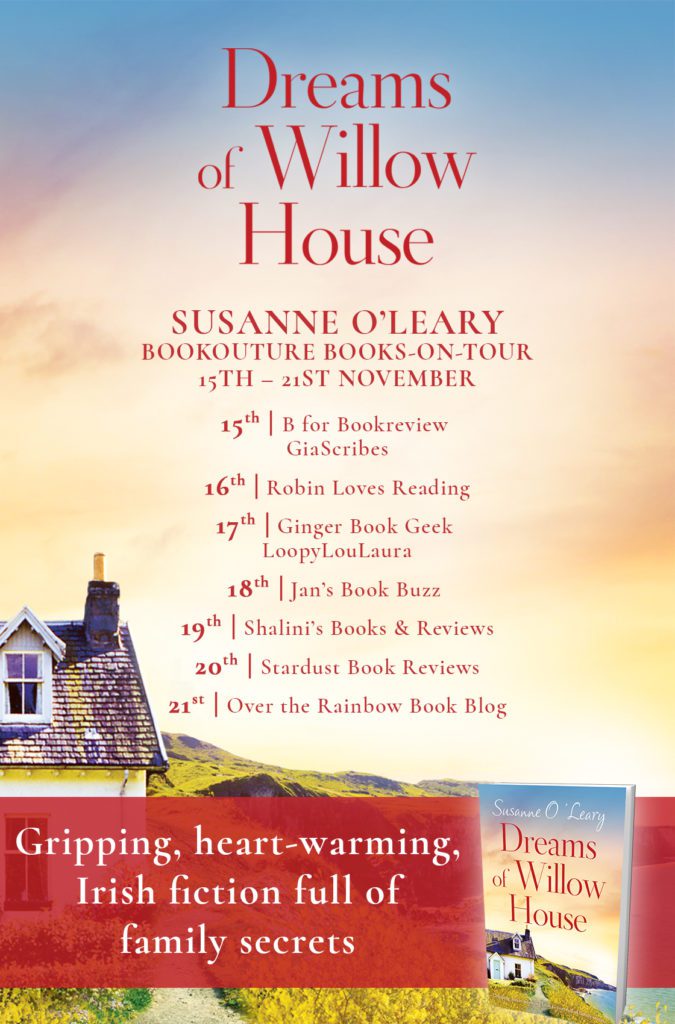 Publication Day Media Kit
Title: Dreams of Willow House
Author:  Susanne O'Leary
Publication Day: 15/11/19
Buy Links:
Description:
A gorgeous, compelling page-turner about one woman's journey to the heart of Ireland and the family secret she's destined to discover…
Cordelia Mirafiore has never truly felt at home in South Florida, so when she's unexpectedly called to the reading of a long-lost relative's will in Ireland, she's hopeful that escaping to Willow House to meet her family might help her to figure out who she really is…
As soon as Cordelia reaches Sandy Cove, the views of the blue ocean and stunning coastline around her provide a sense of calm she has never felt before. She meets her cousins Maeve and Roisin, who welcome her with open arms, finds herself drawn to a handsome man who is also an outsider in town, and feels an instant spark.
But the rest of the McKenna family aren't so willing to accept Cordelia, or even believe that she's family. When they learn that Cordelia is to inherit a third of Willow House, she is forced to prove who she is. All she has are old parish records and a battered box of family photographs, but they lead her to secrets she may not want to uncover.
Can Cordelia find the courage to face her family's past? Can she trust the mysterious man who has swept her off her feet? Or will the lies told for generations force her to leave Sandy Cove forever?
Second chances begin on Ireland's shores. An unforgettable story about mothers and daughters, Dreams of Willow House is perfect for fans of Sheila O'Flanagan, Debbie Macomber and Mary Alice Monroe

Author Bio:
Susanne O'Leary is the bestselling author of fifteen novels, mainly in the romantic fiction genre. She has also written three crime novels and two in the historical fiction genre. She has been the wife of a diplomat (still is), a fitness teacher and a translator. She now writes full-time from either of two locations, a ramshackle house in County Tipperary, Ireland or a little cottage overlooking the Atlantic in Dingle, County Kerry. When she is not scaling the mountains of said counties (including MacGillycuddy's Reeks, featured in Full Irish), or keeping fit in the local gym, she keeps writing, producing a book every six months.