New York detective Kimberley King moves to the small town where her mother now lives. Dead Woman Crossing is named after the unsolved murder of a young woman in front of her baby over a hundred years ago. The townsfolk are traditional especially with regard to gender roles so Kimberley struggles to adapt from city life and attitudes. Then a woman is murdered in a copycat way to the old unsolved case…
Dead Woman Crossing is the first book in a new series and the first third of the book is dedicated to introducing us to Kimberley King and the town. There is NO WAY I would move to somewhere with this place name and the history of being named after a murder!
The pace picks up after that when the body is discovered and the investigation begins. As a single mother herself, Kimberley can identify with the victim and the case takes on a more personal feel. There is little graphic forensic detail and the horror of the murder is subtly told: we only see the aftermath and have no insight into the experience of the culprit or victim. Interrogation of suspects is the main source fo information for the team, hindered by Kimberley's position as an outsider and a woman.
Kimberley herself is a likeable lead character, fiercely protective of her daughter having been abandoned by the father and suffering abuse from her own. Her relationship with her mother is strained as she attempts to fit in with her new step family while still feeling resentful that her mother didn't protect her as a child. Over the course of the book we see flashbacks to Kimberley's childhood as well as her experiences as a detective in NY searching for a serial killer.
Dead Woman Crossing was an enjoyable police procedural novel and offers a good introduction to a new detective and series.
Dead Woman Crossing book description:
She threw open the door, running to the crib. When she looked inside, she gasped. The world around her went silent. Inside, there was nothing but a small stuffed elephant. Where was her baby?
When young, single mother Hannah is found murdered by the banks of a twisting Oklahoma creek, her one-year-old daughter sleeping in a stroller near her body, the small town of Dead Woman Crossing reels in horror.
Detective Kimberley King, recently relocated from New York to Oklahoma, with her young daughter Jessica, can't ignore the similarity of Hannah's death to the case of Katie James, the woman that the town of Dead Woman Crossing is named after. Katie was murdered in front of her small daughter in 1905, on the banks of the same creek, and it seems that someone is drawing inspiration from the crime. Could this killer be a copycat?
But as she interviews suspects, Kimberley is met with blank faces and closed lips. In a small town, people won't talk and when she pursues a promising lead, her own family turn their back on her. Kimberley isn't afraid to ask questions, but when she receives a threatening note, she realises that, as a single mother to a young daughter, she might be putting herself dangerously in the killer's sights …
A gripping, atmospheric crime thriller inspired by true events, about a town on the edge of collapse and a murder that shakes the community. Dead Woman Crossing is perfect for fans of Rachel Caine, Lisa Regan and Jane Harper.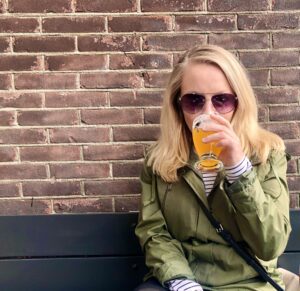 Author Bio:
Originally from Wisconsin, J.R. Adler currently lives in Ithaca, New York with her husband, Drew, and her English Bulldog, Winston. When not writing, you can find her reading, playing board games, travelling, and binge watching The Office for the umpteenth time.
Buy Links: