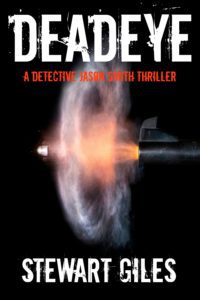 I am a bit miffed as I loved Severed, book 10 of the Jason Smith series, my first introduction to this wonderful author and his lead character. Somehow I missed book 11! And based on the impact it has on events in this book Deadeye, it must have been another stunning read!
Anyway, back to book 12, Deadeye.
Smith has been overlooked for promotion after incidents in the last book and now Superintendent Smyth has brought in his nephew for the DI position at the head of the team. They are investifating a series of murders committed by a skilled marksman, probably a sniper with army experience. We see flashback chapters to army life from years earlier which gives clues to the culprit but I never guessed!
Smith's personal life has derailed after a one night stand with his colleague Baldwin in the last book, wrecking the trust in his marriage to Whitton. Surprisingly, this has not affected the working relationship between the three police characters, and all of the periphery characters (as well as us as readers) want the couple to get back together!
The plot is fast paced and the chapters are short and focused to keep the momentum going. This is the style I like to read as I can fit a few chapters in between work, chores and playing with the kids, and it is too tempting to keep reading when I should be going to sleep!
This was a hugely enjoyable crime thriller/police procedure novel. Once again, author Stewart Giles had really carefully balanced the personal and professional life of Jason Smith so that we care about him and his relationships whilst also admire his skills as a detective. There was one little exchange about the reality of policing compared to novels, and I thought this was a brilliant self-reflexive point that made me smile…

DEADEYE, Detective Jason Smith book 12
From #1 best-selling author: Stewart Giles comes a new addition to the popular Detective Jason Smith series.
When a man is shot dead in a park not far from where Detective Jason Smith lives, Smith takes it personally.
The man was killed in a precise and cold manner.
Then, when another victim turns up – also killed with absolute precision, Smith realizes he's on the trail of a killer who will stop at nothing.
Fighting against his team, Smith will have to dig harder than he's ever dug before to stop the worst killer York has ever seen.
THE SETTING
At the confluence of the River Ouse and Foss, York is the traditional county town of the historic county of Yorkshire. York Minster and a variety of cultural and sporting activities make it a popular tourist destination.
THE DETECTIVE
DS Jason Smith is an Australian who was sent to York to live with his Grandmother when his sister disappeared from a beach. He has suffered many losses in his short life and is now a dedicated detective. He is a bit of a loose cannon he has his own way of doing things that doesn't always mean following orders and procedures. However, he does get results.
BOOKS BY STEWART GILES
DS JASON SMITH SERIES
Book 0.5-Phobia
Book 1-Smith
Book 2-Boomerang
Book 3-Ladybird
Book 4-Occam's Razor
Book 5-Harlequin
Book 6-Selene
Book 7-Horsemen
Book 8-Unworthy
Book 9 – Venom
Book 10 – Severed
Book 11 – Demons
Book 12 – Deadeye
DC HARRIET TAYLOR SERIES
Book 1-The Beekeeper
Book 2-The Perfect Murder
Book 3-The Backpacker
Trotterdown a box set of DC Harriet Taylor books 1-3
DS JASON SMITH &DC HARRIET TAYLOR SERIES
Book 1 – The Enigma
Book 2 – Dropzone
PSYCHOLOGICAL THRILLERS
Miranda
Mistress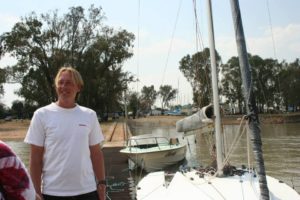 Stewart Giles – Author Bio
After reading English at 3 Universities and graduating from none of them, I set off travelling around the world with my wife, Ann, finally settling in South Africa, where we still live.
In 2014 Ann dropped a rather large speaker on my head and I came up with the idea for a detective series. DS Jason Smith was born. Smith, the first in the series was finished a few months later.
3 years and 8 DS Smith books later, Joffe Books wondered if I would be interested in working with them. As a self-published author, I agreed. However, we decided on a new series – the DC Harriet Taylor: Cornwall series.
The Beekeeper was published and soon hit the number one spot in Australia. The second in the series, The Perfect Murder did just as well.
I continued to self-publish the Smith series and Unworthy hit the shelves in 2018 with amazing results.  I therefore made the decision to self-publish The Backpacker which is book 3 in the Detective Harriet Taylor series which was published in July 2018.
After The Backpacker I had an idea for a totally new start to a series – a collaboration between the Smith and Harriet thrillers and The Enigma was born. It brings together the broody, enigmatic Jason Smith and the more level-headed Harriet Taylor.
Miranda is something totally different. A stand-alone psychological thriller, it is a real departure from anything else I've written before. This was followed by the sequel Mistress in 2019.
The Detective Jason Smith series continues to grow and there are now 13 books including the introduction: Phobia. Book 12: Deadeye will be published in February 2020.
Twitter: @stewartgiles