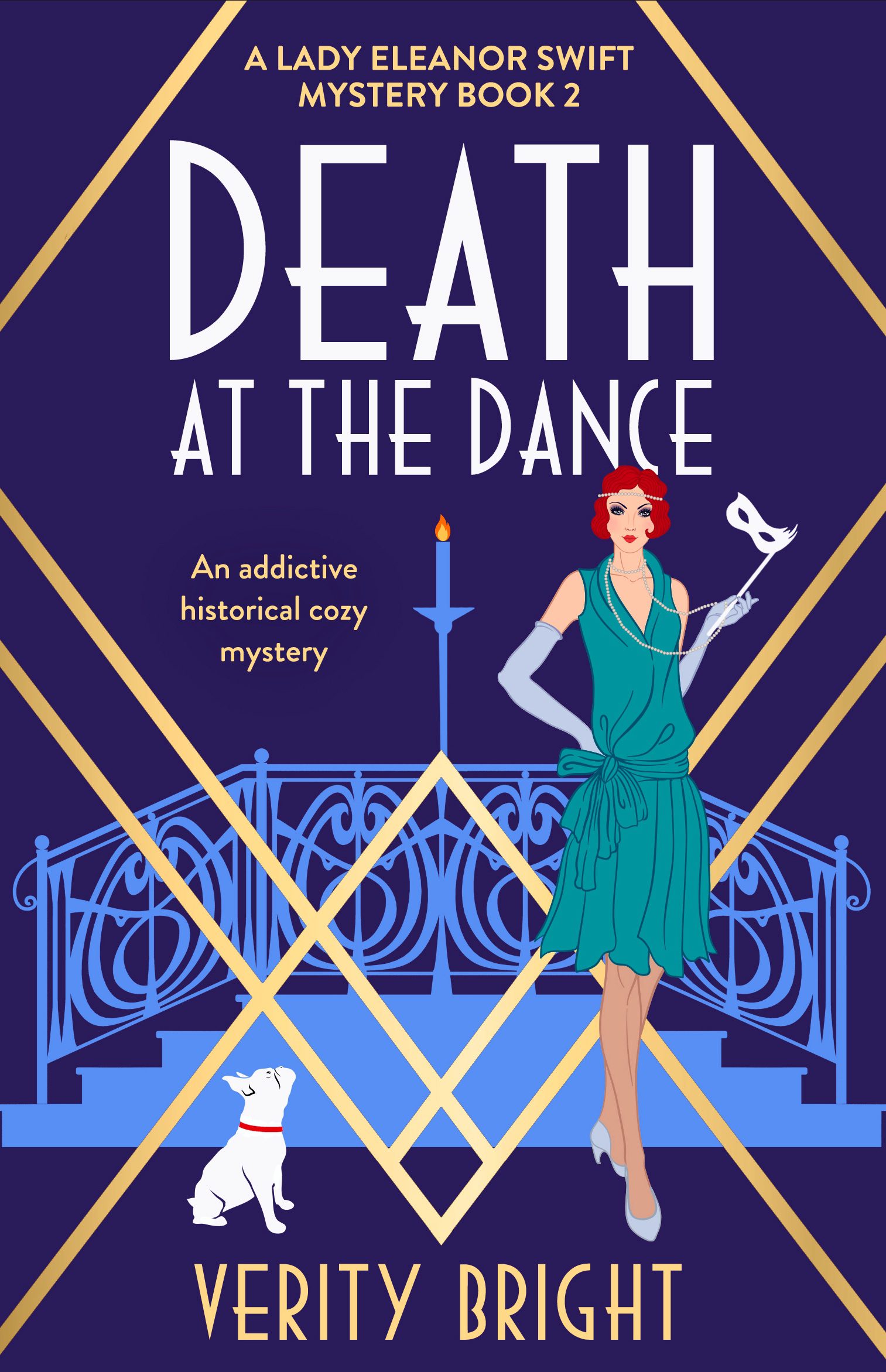 Lady Eleanor Swift is still trying to fit in to her new role as the lady of the manor. She attends a masked dance, trips over her dress and discovers a jewel theft and murder. The chief suspect is her love interest Lancelot but can she clear his name and find the real thief and killer…?
Death at the Dance is a light hearted murder mystery set in the 1920s so it has a classical Agatha Christie feel. It is the sequel to A Very English Murder but would work as a stand alone novel.
The characters really pull the plot along and I admit that I had almost lost interest in the plot itself as it is quite slow to develop, and we have little personal knowledge of the theft or murder except for their impact on the lead characters so it stays in the background. The murder victim is not someone we care about an the subsequent investigation does not invoke our sympathy for his untimely death. I felt that there could have been more inquiry into the jewel thefts to make this more prominent.
The gender, class and social distinctions are entertaining to read and make for interesting characters dynamics. The relationship and witty conversation between Eleanor and Clifford is simply divine. The subtlety and sarcasm in their exchanges is funny and has a natural feel which lifts the quality of the book. I really enjoyed the subversion of the usual role stereotypes and the obvious affection they have for each other.
The love triangle between Eleanor, Lancelot and Inspector Seldon adds an extra dimension and subplot. Eleanor's surveillance of Lancelot's friends allows us to witness another dimension to 1920s society: the sense of entitlement and ebullience of the upper classes in the interwar years. Eleanor is rightly disdainful of the group's behaviour and I like her even more for being confident in herself.
Overall, Death at the Dance was an enjoyable book. I hope that there will be more development of the relationship between Eleanor and Lancelot in the next book as it was tricky with him in a prison cell!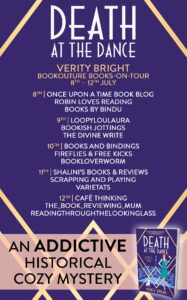 Death at the Dance book description:
A masked ball, a dead body, a missing diamond necklace and a suspicious silver candlestick? Sounds like a case for Lady Eleanor Swift!
England, 1920. Lady Eleanor Swift, adventurer extraordinaire and reluctant amateur detective, is taking a break from sleuthing. She's got much bigger problems: Eleanor has two left feet, nothing to wear and she's expected at the masked ball at the local manor. Her new beau Lance Langham is the host, so she needs to dazzle.
Surrounded by partygoers with painted faces, pirates, priests and enough feathers to drown an ostrich, Eleanor searches for a familiar face. As she follows a familiar pair of long legs up a grand staircase, she's sure she's on Lance's trail. But she opens the door on a dreadful scene: Lance standing over a dead Colonel Puddifoot, brandishing a silver candlestick, the family safe wide open and empty.
Moments later, the police burst in and arrest Lance for murder, diamond theft and a spate of similar burglaries. But Eleanor is convinced her love didn't do it, and with him locked up in prison, she knows she needs to clear his name.
Something Lance lets slip about his pals convinces Eleanor the answer lies close to home. Accompanied by her faithful sidekick Gladstone the bulldog, she begins with Lance's friends – a set of fast driving, even faster drinking, high-society types with a taste for mischief. But after they start getting picked off in circumstances that look a lot like murder, Eleanor is in a race against time to clear Lance's name and avoid another brush with death…
Fans of Agatha Christie, T E Kinsey and Downton Abbey will adore this tremendously fun cozy whodunnit, full of mystery, murder and intrigue!
Author Bio:
Verity Bright is the pseudonym for a husband-and-wife writing partnership that has spanned a quarter of a century. Starting out writing high-end travel articles and books, they published everything from self-improvement to humour, before embarking on their first historical mystery. They are the authors of the fabulous Lady Eleanor Swift Mystery series, set in the 1920s.
Twitter:  @BrightVerity
Buy Links: