Lady Eleanor Swift is invited to start and finish the raft race at the May Fair. But the lighthearted tone of the day is shattered by the tragic death of the local undertaker Solemn Jon. The following day the newspaper prints a scathing obituary which claims the death was murder. Solemn Jon's widow begs Eleanor to investigate…
Murder at the Fair is the sixth book to feature Lady Eleanor Swift and her gently despairing butler Clifford. It is a cosy murder mystery set in the 1920s. There are mentions of events in previous books but no major spoilers if you read them out of order.
Eleanor finds herself investigating another death despite her reluctance to get involved which would undermine her love interest Inspector Seldon. However, she can't resist helping Jon's grieving widow and soon begins investigating. She is also pursued in the book by an arrogant noble who wishes to marry her but dismisses her capabilities and throughly underestimates her!
Eleanor once again has to challenge the social norms of the 1920s as she repeatedly defies convention. Gender and class roles again form an important theme within the book. The relationship between Eleanor and Clifford remains magical, alive with fun and humour.
Murder at the Fair is a great addition to this cosy murder mystery series. There is danger for our protagonists along the way but the light hearted writing style makes it gentle entertainment.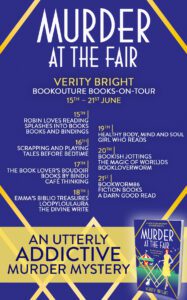 Murder at the Fair book description:
Summer flowers, warm sunshine, a maypole dance and… is that another murder? A tricky case is afoot for Lady Swift!
Summer, 1921. Lady Eleanor Swift, the best amateur sleuth in the country, is delighted to be in charge of the prize-giving at her village summer fair. But the traditional homemade raft race takes a tragic turn when the local undertaker, Solemn Jon, turns up dead amongst the ducks. Jon was the life of any party and loved by the entire village. Surely this was simply an awful accident?
But when a spiteful obituary is printed in the local paper, Eleanor realises there may be more to Jon's death than first thought. Despite handsome Detective Seldon giving her strict instructions not to interfere, Eleanor owes it to Jon's good name to root out the truth. So with her partner in crime, Gladstone the bulldog, Eleanor starts digging for clues…
When another local dies in a riding accident, the police refuse to believe he was murdered. But a second vindictive death notice convinces Eleanor of foul play. Solemn Jon's assistant, a bullish banker and a majestic marquess make her suspect list, but it isn't until she finds a dusty old photograph that she knows the true culprit behind both crimes. Then another obituary appears – her own! Can Eleanor nail the killer before she too turns up dead among the ducks?
An utterly compelling and charming cozy mystery! Pure delight for fans of Agatha Christie, T.E. Kinsey and Lee Strauss.
Author Bio:
Verity Bright is the pseudonym for a husband-and-wife writing partnership that has spanned a quarter of a century. Starting out writing high-end travel articles and books, they published everything from self-improvement to humour, before embarking on their first historical mystery. They are the authors of the fabulous Lady Eleanor Swift Mystery series, set in the 1920s.
Buy Links: