1945, Daisy's life is turned upside down when her home burns down with her mother inside. While recovering in hospital, the war ends and she finds herself without a job as well as neither a home or family. The local priest helps her to find a new role as an assistant whose tasks include working in a hotel. One day a murder occurs and Daisy is convinced the police have the wrong man…
Death at the Dolphin is a stand alone, cosy murder mystery novel set in Oxfordshire, England in 1945.
Daisy is a wonderful lead character and the narrative is written from her first person perspective. We are instantly sympathetic to her due to her guilt over her mother's death. She has had an important role in national security during the war but is then at a loss during peace time. The murder gives her a purpose again, especially when an Austrian Jewish refugee is accused.
The victim is a retired teacher who was passionate about social justice so who could have wanted her dead? There is little forensic information which is appropriate to the genre of cosy murder mystery. I can easily imagine this being made into a TV drama and there is a good antagonism between Daisy and the lead detective Inspector Thaxted.
I enjoyed the larger than life characters of JB and Declan, as well as the myriad of potential suspects. The setting of the hotel means that guests and staff all fall under Daisy's suspicion. The aftermath of the war feels like it is authentically represented through the attitudes of the characters as well as the devastation many have experienced.
Death at the Dolphin is a very enjoyable murder mystery with a strong narrator and plot.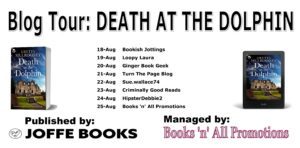 DEATH AT THE DOLPHIN BY GRETTA MULROONEY
Even in peacetime, death is just around the corner.
London, VE Day, 1945. As Britain takes its tentative first steps into peace, Daisy Moore's secret wartime work at Whitehall comes to an end.
Convinced that she caused her mother's death, homeless and with no other job in sight, Daisy should be happy to find herself in Fernfield working at the Dolphin hotel. Instead, she finds the quiet corner of Oxfordshire oppressive and small, and she misses London.
Then a body is found in one of the rooms with the head bashed in by a stone dolphin from the window ledge. The victim is Lucinda Laidlaw, a local charity worker and a pacifist. The villagers thought she was a busybody, and they don't like foreigners.
Daisy is sure she can use her skills to identify the killer. She spent the war decoding ciphers, and murder is surely just another puzzle. But Inspector Thaxted isn't convinced he needs the help.
The list of people who wanted Lucinda dead keeps growing and Thaxted's investigation is going nowhere. Then Thaxted's prime suspect, a young Jewish refugee, is attacked and left for dead. Can Daisy and the inspector work together to find the killer before anyone else dies?
Discover a brilliant 1940s-set murder mystery. Fans of Hilary Green, N.R. Daws, Mike Hollow, Anthony Horowitz, Elly Griffiths and T.P. Fielden will devour it.
READERS LOVE GRETTA MULROONEY:
"I love British mysteries and this one was fabulous." Libby R.
"This is Gretta Mulrooney at her best . . . I loved the compassionate style of writing with lots of surprises and an ending which made me gasp out loud!" Carol S.
"Well written and plotted — as are all of Ms. Mulrooney's books — this was a treat." Joyce F.
"As always with this author, it was a clever and brilliantly-written plot, with a totally unexpected twist at the end." Mandy B.

GRETTA MULROONEY
Gretta Mulrooney was born in London of Irish parents and did an English degree in Derry. She has been published for over twenty-five years; children's books, short stories, literary fiction which won critical acclaim and crime fiction. She has also written for the BBC and Radio Four.
Gretta has always been an avid reader of crime fiction and decided, in retirement, to turn to crime. She has written nine novels featuring a London based private detective, Tyrone Swift. She has also started a new police-based series featuring DI Siv Drummond, set in the fictional Sussex town of Berminster.
BOOKS BY GRETTA MULROONEY
THE TYRONE SWIFT DETECTIVE SERIES:
THE LADY VANISHED

BLOOD SECRETS

TWO LOVERS, SIX DEATHS

WATCHING YOU

LOW LAKE

YOUR LAST LIE

HER LOST SISTER

MURDER IN PEMBROKESHIRE

BOUND BY LIES: THE DETECTIVE TYRONE SWIFT TRILOGY

DETECTIVE TYRONE SWIFT BOOKS 4–6 BOX SET

THE COMPLETE TYRONE SWIFT MYSTERY BOX SET
DETECTIVE INSPECTOR SIV DRUMMOND:
THESE LITTLE LIES

NEVER CAME HOME

MURDER BY THE SHORE

DETECTIVE SIV DRUMMOND BOOKS 1–3 BOX SET
STANDALONE NOVELS:
OUT OF THE BLUE

LOST CHILD

COMING OF AGE

DEATH AT THE DOLPHIN
SHORT STORIES:
JOFFE BOOKS MURDER MYSTERY & SUSPENSE SHORT STORY COLLECTION
FOLLOW GRETTA ON