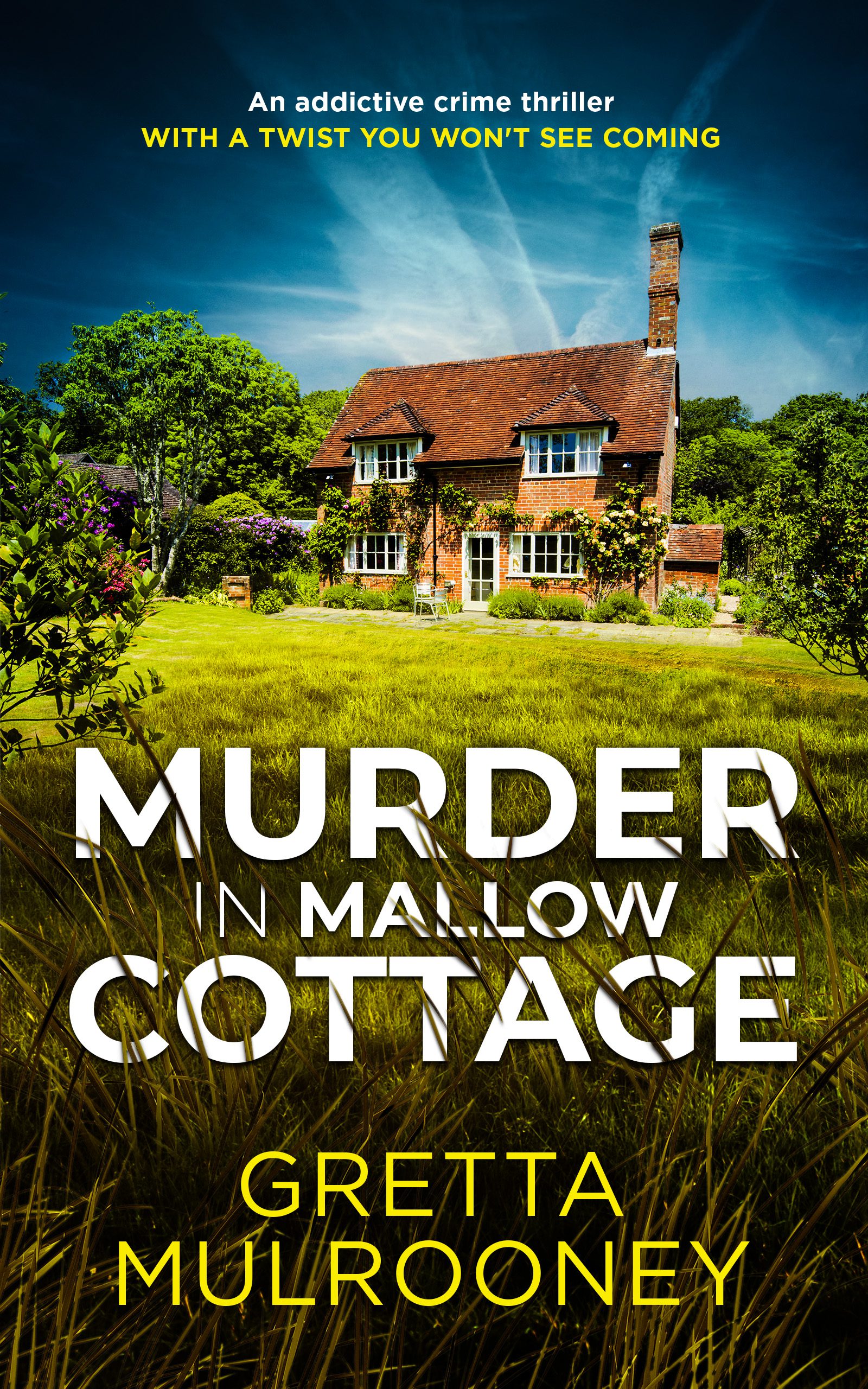 A man's body is found murdered on the steps of a crematorium. Another man is missing. Detective Inspector Siv Drummond needs to work out the connection between the two men so she can uncover the motive and find the killer…
Murder in Mallow Cottage is the third book from Gretta Mulrooney to feature Siv Drummond and her team but it is the first that I have read. There are mentions about personal plotlines which I assume were included in previous books.
Siv is a great lead detective and character. She frequently chats to her deceased husband and she is constantly irritated by her mother who just happens to be dating her superior officer. Siv is deeply caring about her fellow police officers and is determined to find out the truth so that the victims can receive justice.
There are plenty of twists and turns as links between the two men are established and explored. Many of the characters are not entirely truthful with the police, trying to portray themselves in a positive light but potentially hiding relevant information or even secrets about their own involvement. Both the police and the suspects were written in a realistic way and their behaviour and dialogue seemed natural.
Murder in Mallow Cotage is an enjoyable police procedural novel.

MURDER IN MALLOW COTTAGE (Siv Drummond #3)
DETECTIVE SIV DRUMMOND IS ON THE CASE IN THIS GRIPPING NEW NOVEL.
Someone's out for revenge.
The colder the better.
Eugene Warren is found at the local crematorium. But he shouldn't be there. Nobody knew he was dead.
Detective Siv Drummond and her team are on the case. But the only person the victim seemed to be friends with is missing.
Now the search is on to track down Henry Kilgore. But what they find is Eugene's car and a cryptic message:
Remember fun at Mallow Cottage.
What lethal secret lies hidden between the lines? Can Siv piece it all together before the killer strikes again?
Perfect for fans of Joy Ellis, Jane Adams, Tana French, Liane Moriarty, Ruth Rendell or Rachel Caine.
MEET THE DETECTIVE
Detective Inspector Siv Drummond is widowed following a tragic accident involving her husband. With everything in London reminding her of the past, she moves from a high-profile squad with the Met to a new job as DI in her old hometown — sleepy, seaside Berminster. She's still grieving and lonely, but she's a fighter and she's smart, which earns her the respect of her colleagues DS Ali Carlin and DC Patrick Hill, and the grudging approval of her DCI, who wants his protégé to get her job.
WHAT READERS ARE SAYING ABOUT GRETTA MULROONEY:
"I loved this first in the DI Siv Drummond series, may there be many more to follow. I couldn't put the book down, but tried to read slowly . . . didn't want it to end. It's great having a book that you can't wait to get back into." Hannelore C.
"I thoroughly enjoyed These Little Lies which is a good procedural with several twists and a well concealed motive and perpetrator." Elaine T.
"Enjoyed it immensely – read it in one day, ignoring all else." Aileen G.
"The first in the series can often be a difficult thing . . . you've got to set up the scenes and the characters. This one did it well." Louise T.
"A pleasure to read." Independent
"A beautifully written book, a magnificent read." Big Issue
"A memorable tale with a shocking denouement." Time Out
"A psychological tale echoing Barbara Vine." Bookseller
"I had plenty of guesses, all of them wrong so the novel held my attention throughout. The pacing is excellent." E. Tomasso
"The book moves along at a steady pace and gains momentum as it progresses. There are many twists and turns along the way as the reader is caught up in the intrigue and suspense towards a real jaw dropping shocker of an ending nobody will see coming." BOOKS n ALL
"A thoroughly enjoyable read and extremely well thought out. Had me puzzled as an avid crime reader." Carole
"A fascinating read with many twists and turns that keeps you guessing to the end. A must read." Greta H.
About the author: GRETTA MULROONEY
Gretta Mulrooney was born in London of Irish parents and did an English degree in Derry. She has been published for over twenty-five years; children's books, short stories, literary fiction which won critical acclaim and crime fiction. She has also written for the BBC and Radio Four.
Gretta has always been an avid reader of crime fiction and decided, in retirement, to turn to crime. She has written seven novels featuring a London based private detective, Tyrone Swift: She has also started a new police-based series featuring DI Siv Drummond, set in the fictional Sussex town of Berminster.
BOOKS BY GRETTA MULROONEY
THE TYRONE SWIFT DETECTIVE SERIES:
THE LADY VANISHED

BLOOD SECRETS

TWO LOVERS, SIX DEATHS

WATCHING YOU

LOW LAKE

YOUR LAST LIE

HER LOST SISTER

MURDER IN PEMBROKESHIRE

BOUND BY LIES: THE DETECTIVE TYRONE SWIFT TRILOGY

DETECTIVE TYRONE SWIFT BOOKS 4-6 BOX SET

THE COMPLETE TYRONE SWIFT MYSTERY BOX SET
DETECTIVE INSPECTOR SIV DRUMMOND
THESE LITTLE LIES

NEVER CAME HOME

MURDER IN MALLOW COTTAGE
STANDALONE NOVELS:
OUT OF THE BLUE

LOST CHILD

COMING OF AGE
FOLLOW GRETTA ON