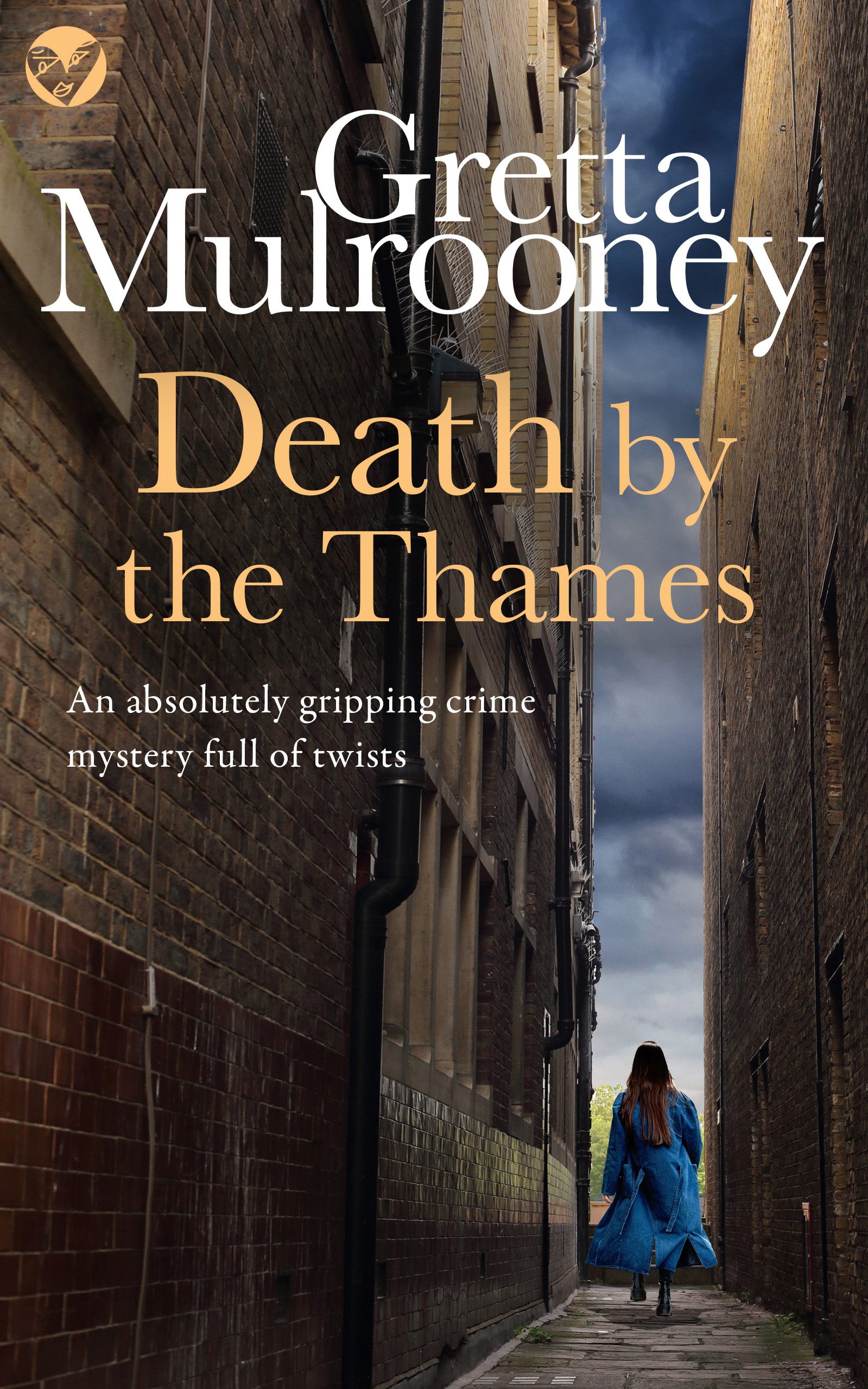 Private investigator Tyrone Swift is hired by Toni Sheringham to look into the death of her fiance alongside a fifteen year old girl. The pair are assumed to have committed suicide together but Toni cannot accept this explanation.
Death by the Thames is a crime novel, the ninth book to feature Tyrone Swift but it is the first that I have read. There are mentions of other cases and characters which I assume are from earlier books but there are no obvious spoilers.
Tyrone is a down to earth man who has left the police and set up his own private investigator business. He is tenacious but also thoughtful which makes him someone we as readers can root for as the case progresses. I liked his interactions with his friends and family as well as his interviewees as the case develops.
Toni is devastated by the death of Sam and was informed on their wedding day. Their relationship is tarnished as the police are convinced Sam and a young girl killed themselves in a suicide pact. But there is no connection between the dead pair and Tyrone is called upon to explore any potential relationship. The plot had plenty of twists and turns as various characters reveal secrets, however I did find the conclusion a little confusing as it was quite complex.
Death by the Thames is an enjoyable crime novel with a likeable lead character.
I have previously reviewed Murder in Mallow Cottage from Gretta Mulrooney's Siv Drummond series.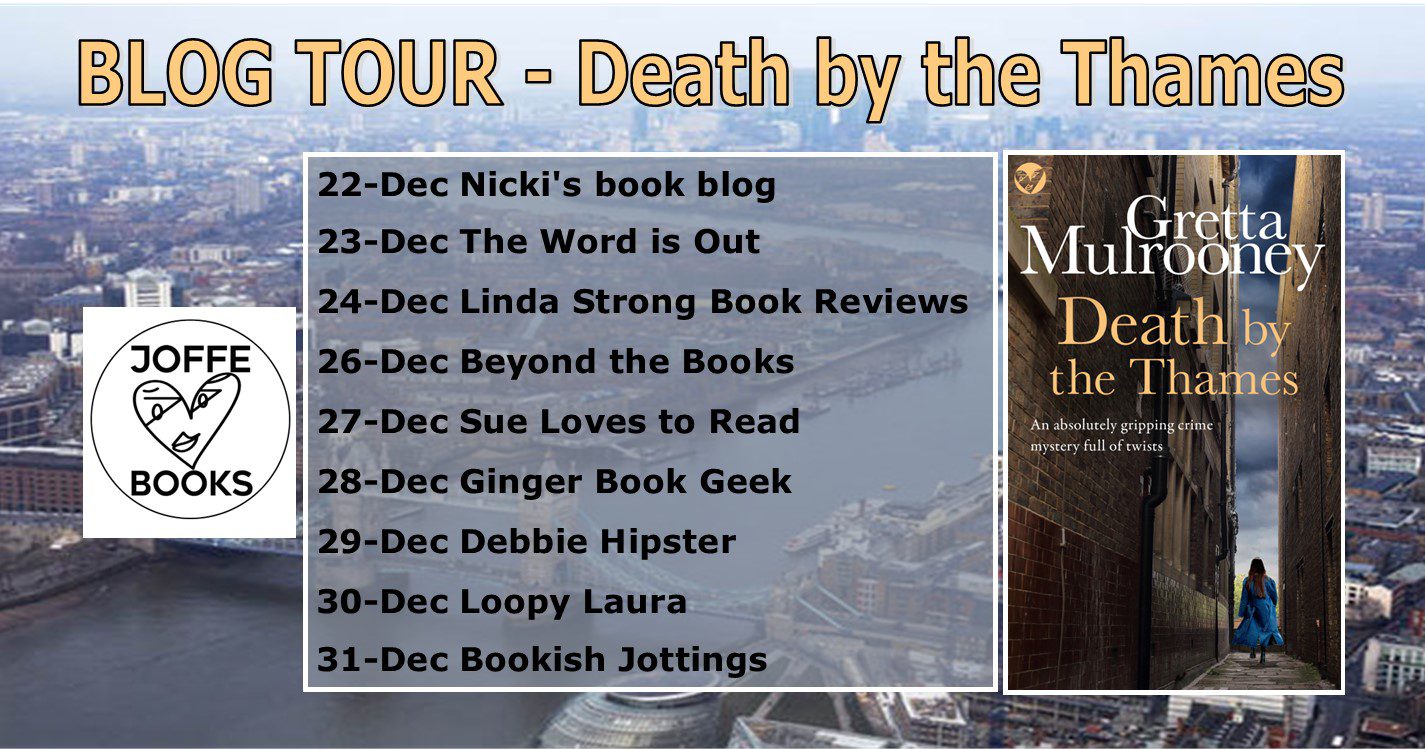 Death by the Thames by Gretta Mulrooney
Looking for your next unputdownable mystery? Meet Detective Tyrone Swift. He takes the cases that the police have given up on.
One dead bridegroom.
Financier Sam Goddard never made it down the aisle. Instead, his body is pulled from the Thames. Everyone says he rode his bike into the water. And he didn't die alone . . .
A teen tearaway with a taste for older men.
Riding in his sidecar, there's an underage girl. On his phone, a text.
So sorry to do this to you . . .
The police know a suicide pact when they see one, and as far as they're concerned, it's case closed.
But Toni — Sam's grieving fiancée — can't believe it's true. Desperate to uncover the truth about Sam's death, she turns to Tyrone Swift for answers.
But is she prepared for the killer secrets he's about to unearth?
Death by the Thames is a seamlessly crafted, twisty crime thriller that will have you gripped from start to pulsating finish.
Perfect for fans of Joy Ellis, Tana French, Val McDermid, Robert Galbraith, Ann Cleeves, Jane Adams or Elly Griffiths.
WHAT READERS ARE SAYING ABOUT GRETTA MULROONEY:
"An exceptional read." Carole
"5 Stars — Brilliant." Barbara
"A really page-turning book." Viv
"I really love this series." Hannelore
"Mulrooney has a real gift for dialogue, the words and phrases ring true and make her characters wonderfully real . . . A tenderly funny and genuinely moving piece. I loved it." Fiona Morrow, Time Out, on Araby
"A beautifully observed study of reconciliation, Araby makes astute points about conflict and shifting values between generations." James Eve, The Times, on Araby
THE DETECTIVE
Tyrone Swift is an ex-police detective who now works privately. He's survived a stabbing and his fiancée running off with another man. Swift's personal life is complicated, to say the least.
THE TYRONE SWIFT DETECTIVE SERIES
Book 1: THE LADY VANISHED
          2: BLOOD SECRETS
          3: TWO LOVERS, SIX DEATHS
          4: WATCHING YOU
          5: LOW LAKE
          6: YOUR LAST LIE
          7: HER LOST SISTER
          8: MURDER IN PEMBROKESHIRE
          9: DEATH BY THE THAMES
GRETTA MULROONEY
Gretta Mulrooney was born in London of Irish parents and did an English degree in Derry. She has been published for over twenty-five years; children's books, short stories, literary fiction which won critical acclaim and crime fiction. She has also written for the BBC and Radio Four.
Gretta has always been an avid reader of crime fiction and decided, in retirement, to turn to crime. She has written seven novels featuring a London based private detective, Tyrone Swift: She has also started a new police-based series featuring DI Siv Drummond, set in the fictional Sussex town of Berminster.
BOOKS BY GRETTA MULROONEY
DETECTIVE INSPECTOR SIV DRUMMOND
THESE LITTLE LIES

NEVER CAME HOME
STANDALONE NOVELS:
OUT OF THE BLUE

LOST CHILD

COMING OF AGE
FOLLOW GRETTA ON