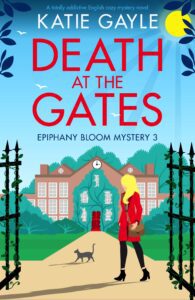 Hapless amateur sleuth Pip Bloom is called upon to go undercover at a private school to investigate exam cheats. But the situation deteriorates when a death occurs at the school fair which is discovered to be murder. Pip finds herself in danger as well…
Death at the Gates is the third book to feature the escapades of Pip (I have previously reviewed The Kensington Kidnap and The Museum Murder)
Pip's character continues to be delightfully madcap. She bumbles through life despite her best attempts at sensible behaviour. In this book she helps her flatmate Tim's sister who has been accused of cheating in an exam. She takes on the role of PE teacher despite having no experience and knowing nothing about sport!
This book falls firmly into the category of cosy murder mystery. The tone of the whole book is light hearted and warm in spite of the danger faced by Pip as she investigates. The murder does not occur until halfway through the book and is not described in graphic detail. I guessed the murderer quite early on but this did not spoil my enjoyment at all.
Threads from the previous books continue to feature heavily. The throwaway hints about  tumultuous disasters from Pip's past. The potential romantic interest of Pip with Jimmy and Tim. The llama business of Pip's mother. The hilarious misquotes of Flis (seriously how does she manage to write a blog?!)
Death at the Gates is a light hearted cosy mystery. It is easy to enjoy the book without reading the previous books in the series but I would recommend reading them all!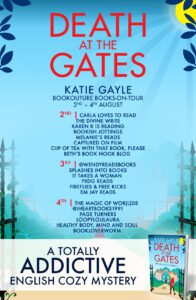 Death at the Gates book description:
Hurlingham House school is a high-achiever's heaven, full of happy, hard-working pupils. There's just the small matter of the dead body on the field… Sounds like a case for Epiphany Bloom!
When Epiphany Bloom's best friend's sister Claire is accused of trading exam papers for money, Epiphany agrees to see Ms Peters, the headteacher of Claire's fiercely competitive school, to provide moral support. Claire has always been a model student and is loudly protesting her innocence: surely it's all just a misunderstanding.
But when Ms Peters hears about Epiphany's previous sleuthing exploits, she enlists her help to track down the true culprit!
Taking a job as a PE teacher, Epiphany soon realises she has plenty of suspects for the exam scam mastermind. The broke young teacher with a shady past? The father willing to buy his daughter anything – including grades? The school governor desperate to keep Hurlingham House at the top of the ranks?
Then Epiphany finds one of them dead at the school fair, and it becomes clear someone is taking the cut-throat culture of the school too literally – and when mysterious accidents start happening around her too, it seems the killer knows she's onto them.
Can Epiphany solve the murder as well as clearing Claire's name, before she becomes the next victim? This is one test she can't afford to fail…
A charming and totally addictive cozy mystery with a hilarious and warm-hearted heroine. A must-read for fans of M.C. Beaton, Lee Strauss and Janet Evanovich's Stephanie Plum series.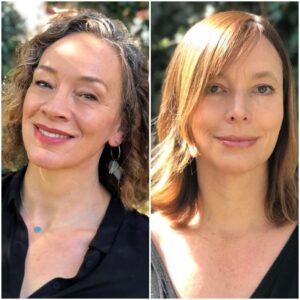 Author Bio:
Katie Gayle is the writing partnership of best-selling South African writers, Kate Sidley and Gail Schimmel. Kate and Gail have, between them, written over ten books of various genres, but with Katie Gayle, they both make their debut in the cozy mystery genre. Both Gail and Kate live in Johannesburg, with husbands, children, dogs and cats. Unlike their sleuth Epiphany Bloom, neither of them have ever stolen a cat from the vet.
Buy Link: