Marc O'Sullivan goes to the police, announcing that he is about to disappear and doesn't want to be found. Eva, his friend, neighbour and a police officer, cannot believe he would abandon his family but and promises his distraught wife that she will unofficially look into his disappearance…
Don't Come Looking is the sequel to Leave Well Alone but the life of the main character Eva has moved on several years. There are some mentions of events in the last book but no plot spoilers so they can be read out of sequence.
Eva's life has changed considerably and she is now a police officer with 2 children. She is still married to Jim who has health problems. This book has a very different feel as she is less emotionally involved in the events of the plot which centre around family friends. This gives her and us more objectivity to watch circumstances develop and the plot twists and turns in an intriguing way.
Marc is a happily married man with children but decides to vanish. His physiotherapist wife Sasha is frantic but keeps his disappearance quiet as their son takes his exams. She begs Eva for help and Eva puts her own career in jeopardy to help her friend find the truth. Eva uncovers a host of secrets about Marc's neighbours but do any of them relate to Marc? I found her risk taking surprising and a little out of charcacter until I thought about how much she values family and Sasha has been instrumental in the recovery of her husband.
The majority of the book is written from Eva's viewpoint in the first person but in the second part another third person perspective is offered. This change of view gives us some insight and offers potential understanding about Marc's disappearance but the full scope of the multiple plot strands are not woven together until the end.
Don't Come Looking was a gripping mix of domestic drama, police and psychological thriller.
Don't Come Looking book blurb
A missing man. A desperate friend. A circle of deceit.
Would you refuse your best friend's plea for help?
Marc O'Sullivan has disappeared.
His wife Sasha is frantic, and Eva is baffled.
They were blissfully married with three kids. The perfect couple… or so everybody thought.
Sasha begs Eva to help her find Marc. But he has given a written statement at the police station where Eva works. It's on record – when his family report him missing, Marc does not want to be found. But why?
Ultimately, friendship and loyalty override Eva's professional integrity, and she is compelled to use her resources to delve into Marc's life, even if it means breaking the police Code of Conduct and jeopardising her career.
As each day passes, the mystery deepens. Murky goings-on from Marc and Sasha's neighbours heighten the tension. What dark secrets are they hiding? And what drove Marc's inexplicable actions in the weeks leading up to his disappearance? Behaviour so out of character, Eva struggles to tell Sasha.
Will Eva uncover the truth before it's too late and lives are destroyed forever?
A psychological suspense thriller full of twists and turns.
Great for fans of Lisa Jewell, Shari Lapena, Clare Mackintosh, Adele Parks, Miranda Rijks and Lucy Foley.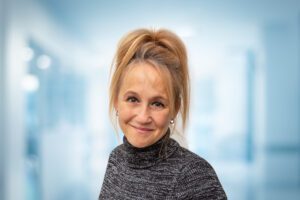 About the author
Until the birth of her twins in 2005, which radically changed her life, AJ worked as an accountant in London. One of her twins was born with severe disabilities, as a result of which she had to give up work to care for him.  During this incredibly challenging (and rewarding) time, AJ began to draw on her love of the written word, partly for daily inspiration and partly for her own mental health.
Reading or writing, AJ loves nothing more than settling down with a good book. She enjoys reading most genres, especially thought-provoking novels that beg the question – what would I have done in that situation?
AJ lives on the Essex / Hertfordshire border with her husband, two of her three sons, and her cocker spaniel, Max. She is a firm believer in daily exercise for mental health and enjoys walking Max in the local fields. AJ also loves cooking oriental food while sipping a good glass of white wine.
WEBSITE: www.ajcampbellauthor.com
EMAIL: aj@ajcampbellauthor.com
INSTAGRAM: ajcampbellauthor
FACEBOOK: ajcampbellauthor