Cara De Rosa collapses at her great granddaughter's birthday party. Lying ill in hospital, she makes a series of confused statements to her granddaughter Sienna but as her health deteriorates further, it becomes clear that she spoke the truth. Sienna needs to investigate her family's personal and financial lives to explore who could have poisoned her beloved nonna…
Search No Further is a family drama and psychological thriller set in the present day in London.
Sienna is devastated when her grandmother is taken ill but then very upset by the revelations and accusations Cara makes. She is determined to investigate her own family as she suspects that someone has deliberately caused Cara's illness. Secrets from the past and present emerge, leaving Sienna shocked.
There are many twists and turns within the plot and I ended up distrusting everyone! The intricate plot cleverly interweaves the characters and motives so I think it is impossible to guess the final revelations.
I really liked Sienna's character as she searches for the truth, irrespective of the potential consequences for someone she loves. She is also trying to heal her heart after the death of her husband and I felt that she took new love Zach for granted whilst he is obviously besotted with her.
Search No Further is quite a gripping read and I enjoyed witnessing the secrets that are revealed within the family.
I have recently reviewed two other AJ Campbell books which form the Eva Barnes series: Leave Well Alone and Don't Come Looking.

Search No Further book blurb:
Family secrets can kill in this brand-new psychological suspense thriller from AJ Campbell, the Amazon bestselling author of Leave Well Alone and Don't Come Looking.
Cara De Rosa is the heart of her large family and community in London. Her restaurant business is booming. She's found a second chance at love, and an impending marriage is on the horizon. But there's no such thing as a perfect life. And the good times never last forever.
When Cara's health suddenly falters, her family's world turns upside down in the blink of an eye. In a bed-ridden haze, she confides in Sienna, her favourite grandchild, that her rapid decline may be at the hands of one of her own.
Sienna, a young, single mother, is reeling in the wake of her husband's unsolved death. She is haunted by crippling anxiety and misplaced guilt, heightened by suddenly finding herself in a race against time to save Cara's life. As she begins to pull at the strings of a tangled family web, she'll reveal disturbing secrets, decades of deceit and shockingly serious crimes.
Great for fans of Lisa Jewell, Shari Lapena, Adele Parks, Jackie Kabler, Miranda Rijks, Daniel Hurst and Lucy Foley.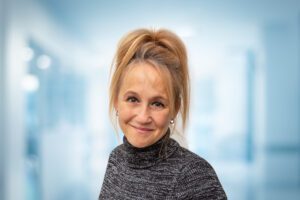 About the author
Until the birth of her twins in 2005, which radically changed her life, AJ worked as an accountant in London. One of her twins was born with severe disabilities, as a result of which she had to give up work to care for him.  During this incredibly challenging (and rewarding) time, AJ began to draw on her love of the written word, partly for daily inspiration and partly for her own mental health.
Reading or writing, AJ loves nothing more than settling down with a good book. She enjoys reading most genres, especially thought-provoking novels that beg the question – what would I have done in that situation?
AJ lives on the Essex / Hertfordshire border with her husband, two of her three sons, and her cocker spaniel, Max. She is a firm believer in daily exercise for mental health and enjoys walking Max in the local fields. AJ also loves cooking oriental food while sipping a good glass of white wine.
WEBSITE: www.ajcampbellauthor.com
EMAIL: aj@ajcampbellauthor.com
INSTAGRAM: ajcampbellauthor
FACEBOOK: ajcampbellauthor