Charlotte and Tris are a couple struggling with work and home life balance. She is an author so works from home and does most of the child care while Tris has a well paid job in the city and feels like he gets everything wrong with regard to the children. They snipe and argue with each other as they are both unhappy.
Meanwhile, Charlotte is carrying guilt because she blames herself for her father's temporary absence during her childhood after she recorded him kissing another woman in her diary which her mother may have read.
Charlotte meets Mia at a book signing and is instantly struck by how similar they are in looks. Mia is an actress trying to rebuild her life after her fiance left her for her best friend. She is also recovering from dealing with looking for her biological parents. She has a new boyfriend Seth and is attending counselling.
Her counsellor just happens to be Charlotte's sister Florence who breaks all confidentiality rules by telling Charlotte what Mia has told her during their session.
Charlotte hatches a plan but the exact motives are unclear. She wants Mia to pretend to have written a book that Charlotte has actually written as her own career is quite stagnant and the book will receive a better reception being from a debut author. Mia agrees and soon the publishing world is going crazy for the manuscript with deals of over a million pounds being discussed.
Just over halfway, we get the big reveal and I won't spoil it but I did rush to my husband beacuse I had to share it! It is done so subtly on the first page of chapter 11 that I actually acted like this:

The characters in this book are very realistic and the mystery behind Charlotte's motives keep the momentum of the plot. The final third leaves the reader with a real dilemma over how to feel about the characters and decide who is 'more sinned against than sinning' (to quote my A Level King Lear 🙂 )
The narrative is split between Charlotte and Mia's perspectives allowing us insight into both main characters to develop sympathy and empathy with them.
Don't Ever Tell is so very different to author Lucy Dawson's last book The Memory. The style and tone are completely different. Both books make you question your own responses to dilemmas and have a great psychological dimension.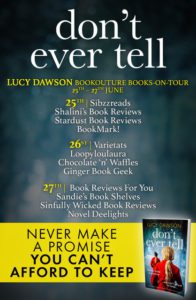 Don't Ever Tell by Lucy Dawson
This is a story about Charlotte, who has two sweet children, a stay-at-home job she loves and a drama-free marriage to a caring and successful man. Life is nearly perfect…
at least, that's how it looks from the outside.
But behind closed doors, the marriage is breaking. Every day, after she kisses her husband Tris goodbye, Charlotte works a little more on her plan to destroy his life.
Was it when he stopped looking at her in that way, that she first felt something was wrong?
Or when he lied about where he was going, so he didn't have to watch their sick children?
Or perhaps it's the smiling photo of him on a beautiful stranger's phone. Charlotte can think of only one way it got there…
Charlotte thinks she has every one of her husband's sins neatly filed away… but there's something big that Charlotte is missing. And by the time their story is finished, you'll be questioning if you can ever really trust those closest to you.
From the bestselling author of The Daughter and White Lies comes an unputdownable psychological thriller unlike anything you've read before!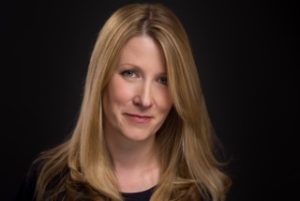 About the author
Lucy has been writing psychological suspense novels since 2008, when her first bestseller – His Other Lover – was published. Since then her work has been translated into numerous languages.
Her gripping books jump in at the deep end… the extraordinary things that can happen to ordinary couples, families and friends with devastating conclusions.
You can reach her at lucy@lucydawsonbooks.com or find her on Twitter, Facebook or Instagram @lucydawsonbooks