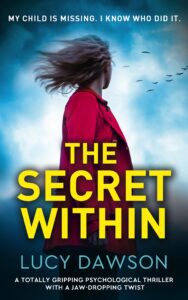 Julia Blythe has a reputation for causing trouble after whistleblowing at her last employment. She moves to a new hospital and seems to be settling in well but her colleague Nathan Sloan becomes obsessed with her whilst also keeping career-ending secrets…
The Secret Within is quite a dark thriller with the added tension of a medical drama. The tagline is a little misleading as this plot twist doesn't happen until two thirds of the way through the book. Before that point, we are introduced to the courageous and resilient Julia and her narcissist colleague Nathan.
The plot is delivered through 3 viewpoints: Julia, Nathan and their colleague Hamish who supports Nathan up to a point. This allows us to see various perspectives and get an emotional understanding to their actions, even as we despise them!
Gender roles and the continued strength of patriarchy are explored over the course of the book. Julia stands up for herself and is quite righteous to protect her patients. This had led to personal sexist attacks on her in the past and now she is concerned that a male agenda is taking over again.
I did have a little sympathy for Nathan as his emotional fixation with Julia does seem genuine. However, his repugnant behaviour soon dismiss any positive feelings towards him as he manipulates events in the book.
The Secret Within is a hugely entertaining thriller and did remind me of some plotlines from Holby City. I can see this book being made into a TV drama!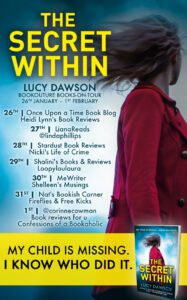 LUCY DAWSON Media Kit:
Title:  THE SECRET WITHIN
Publication Day: JAN 26 2021
Author:   Lucy Dawson
Buy  Link:
Description:
It was supposed to be my family's promising new start, but now it's a nightmare I can't wake up from…
I need the two men sitting opposite to trust me. My family's happiness is riding on my getting this job. I smile – there's no link between having a friendly face and being trustworthy, but humans are programmed to think there is. Even us doctors, who should know better.
They'll know about my past from the newspapers – the court case, the threats, the lies that were told – but what's important now are my children. This has to be the new start we so desperately need. An escape from my old job, my ex… and the scandal that nearly ruined me.
What I don't know yet is that if I convince them to trust me, I'll be putting my family in terrible danger. I'm trying to make things right, but this is when it starts to go very, very wrong…
Utterly twisty and completely unputdownable. This insanely gripping page-turner is perfect for anyone who tore through Friend Request, Gone Girl or My Lovely Wife.

Author Bio:
Lucy has been writing psychological suspense novels since 2008, when her first bestseller – His Other Lover – was published. Since then her work has been translated into numerous languages.
Her gripping books jump in at the deep end… the extraordinary things that can happen to ordinary couples, families and friends with devastating conclusions.
Author Social Media Links:
You can reach her at lucy@lucydawsonbooks.com or find her on Twitter, Facebook or Instagram @lucydawsonbooks