I confess that I tend not to read the blurb about books and go by the front cover. This allows me the freedom to be immersed in the book without any preconceptions about the plot or characters.
This book totally surprised me. From the very first chapter, I was on edge and in shock, and I pretty much stayed in that way until the final page.
The children in a small town are traumatised when their martial arts teacher gets a pellet gun and starts shooting them. One mum, Eve, calls the police who shoot the man dead. But the ramifications of this event leave a lasting memory that continues to affect them all 30 years later.
In the present, Eve is trying to sell her house, having never been happy there. She shows potential buyer Claire around and they seem to get on well. But Claire's life is turned upside down when her husband Tim admits that he has lost all of their money through an investment that went wrong. Tim's parents offer to buy Eve's house for the young family so that they have a place to live and Claire reluctantly accepts.
The initial rapport between Eve and Claire is shattered when it is revealed that Tim used to date Eve's daughter Isobel.
The narrative throughout the book is split between Eve and Claire so we are able to see both viewpoints and devleop sympathy and empathy towards both women.
There are lots of spooky instances through the book which were unsettling for the characters, especially in light of the trauma they had experienced as children, and I was unsure whether there was a supernatural element to the plot but all was revealed by the end…
The revelations at the end of the book were completely unexpected and made me re-think my opinion of all the events of the book. Great finale!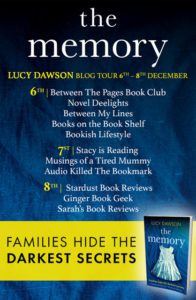 THE MEMORY by Lucy Dawson
I look down at her, lying fast asleep – always my little girl, and so beautiful. She gives a low moan as her head turns restlessly on the pillow. It reminds me of the soft growl of a cornered animal. Where is my poor child? What is she dreaming?
People always notice my daughter, Isobel. How could they not? Incredibly beautiful… until she speaks.
An unsettling, little-girl voice, exactly like a child's, but from the mouth of a full-grown woman.
Izzie might look grown-up, but inside she's trapped. Caught in the day it happened – the day that broke her from within.
I know why my daughter is the way she is. There's nothing I could have done to save her… is there?
An unputdownable psychological thriller about families and secrets, perfect for fans of Gone Girl, Shalini Boland and Lisa Jewell.
About me by Lucy Dawson: 


I've been writing psychological suspense novels since 2008, when my first bestseller – His Other Lover – was published. I write full time (mostly on the playroom sofa) from my home in Devon, where I live with my husband and children. Before that, I used to edit a magazine for six to twelve year old girls for a living, making absolutely no use whatsoever of my psychology degree from Warwick University, but it was a lot of fun.
I'm addicted to writing about the extraordinary things that can happen to ordinary people – stories that jump in at the deep end, with a gasp. When readers take the time out to let me know they've stayed up all night because they couldn't put the book down, it makes my day.
I really enjoy catching up with readers and always reply to emails. You can reach me at lucy@lucydawsonbooks.com. I'm also on Twitter @lucydawsonbooks and have a Facebook page at lucydawsonbooks. Alternatively you can download a free short story of mine at www.lucydawsonbooks.com or if you want to look at a lot of pictures of the beach and books that I'm reading, find me on Instagram at lucydawsonbooks.