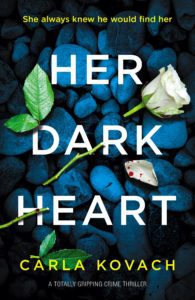 TRIGGER WARNING: THIS BOOK DEALS WITH HISTORIC SEXUAL ABUSE
Her Dark Heart is book number 5 in the Gina Harte series. Mother of 3 Susan disappears one afternoon and fails to pick up her children. She is in the middle of a messy divorce but her mother is convinced that something sinister has happened. Her sister and soon-to-be-ex husband are equally sure she has run away as a form of attention seeking.
A body is soon found but it is that of a man, possibly the last person to see Susan before her disappearance. Gina and her team are now unsure if Susan is a suspect or a victim and must begin to unravel family secrets to get to the truth.
The plot is completely compelling and the narrative is split between the police side of the investigation and the kidnapper/murderer. The police characters work together well as a team and the process of solving the case feels realistic.
We see a lot more emotion from Gina this time because the mother of missing Susan reminds her so much of her own mother which causes her emotions to overwhelm her at times.There is still the hope of a relationship with Briggs which simmers over the course of the book. Gina's vulnerability and humanity shine through the book, adding a personal aspect to explain her motivations and make us identify with her.
Media Kit:
Title: Her Dark Heart  
Publication day: 19/11/19
Author:  CARLA KOVACH
Buy  Links:      
Description:
Rory is waiting at the door of the pre-school – a painted picture of his mother Susan in his small hand. But Susan isn't going to see the picture, because she has vanished.
Susan Wheeler is a devoted mother. She would do anything for her three children. She drops them off and picks them up every single day. Until one day when Susan kisses them goodbye and then never comes to pick them up.
Susan's mother Mary is worried. Susan is recently divorced and has been finding things hard recently, but she loves her kids – she'd never leave them.
Susan's sister Clare is furious. It's just like her to go missing. It's not the first time, either. Susan has always been a troublemaker. Always seeking attention. She knows Susan has been lying to the family for years. And she knows that Susan has been sneaking out of her family home for weeks…
As the hours turn into days, even Clare becomes fearful for Susan. And, when Mary discovers Susan's diary, she begins to uncover a dark secret from her childhood. Something no one in the family knew. When the final diary entry leads the police to a man who is discovered dead in a local park, they're left wondering whether Susan has vanished because she is a victim. Or because she is a suspect…
An explosively compelling crime thriller from bestselling author Carla Kovach – if you love Lisa Gardner, Robert Bryndza or Clare Mackintosh, you'll love Her Dark Heart.

Author Bio:
Carla Kovach was born in Birmingham, UK and now resides in Redditch, Worcestershire. Author of supernatural drama 'Flame,' psychological thriller 'To Let,' crime thriller 'Whispers Beneath the Pines,' and holiday comedy, 'Meet Me at Marmaris Castle.' Carla also writes stage and screenplays, some of which have been produced in the Worcestershire area. Her feature film 'Penny for the Guy' is being made and is set for release in 2019.
Her latest book, Her Dark Heart, has been published by Bookouture. It is the fifth book in the DI Gina Harte crime series.
Author Social Media Links: