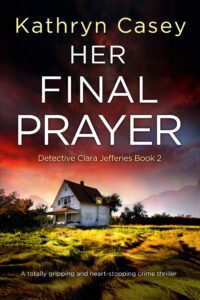 TRIGGER WARNING: this book deals with child murder
Clara Jefferies has a devastating new case: the murder of two children and their mothers plus the father seriously injured and the baby unattended in his cot. Clara's own Mormon family shun her but the community need to reconcile their animosity with the detective in order to help her catch the killer…
Her Final Prayer is the sequel to The Fallen Girls. It would work as a stand alone novel but I would recommend reading the first book to understand the mindset of the main character Clara and the town she grew up in and has now returned to.
Clara continues to face difficulties from her choice to leave her family and religion and this hampers the investigation as the town closes ranks against her. Luckily Clara has a tenacious and resilient personality so she is able to persist with the investigation despite the community's rejection of her.
The first person narrative enables us to feel more connected to Clara although some chapters are written from other third person viewpoints but are less personal. The romantic potential for Clara and Max to grow closer continues to develop.
Her Final Prayer is an engaging and thought provoking police procedure novel from a series with a unique personal life for the lead detective.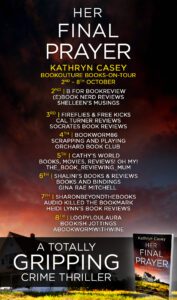 Her Final Prayer book description:
Her pulse pounded in her ears as she scanned the house. Her eyes traveled over the porch where three empty chairs lazily rocked in the breeze, surrounded by scattered children's toys. In the yard, there were mounds of earth. Graves. Only big enough for children…
When Detective Clara Jefferies is called to a family ranch just outside of Alber, Utah, she's horrified to find two innocent young children murdered alongside their mothers. But she arrives at the scene quickly enough to rush their father, Jacob Johansson, to hospital where he begins fighting for his life, and to save his two-month-old son Jeremy, left untouched in his crib.
As Clara begins to investigate, nothing she finds out makes sense. Though she uncovers photos of one of Jacob's wives in his best friend's trailer, her flower necklace underneath his bed, there are rumors that she was in love with a different man altogether. And as the close-knit community comes together to support Jacob, Clara's own family shut her out of the investigation…
But Clara won't give up. With the killer still at large, baby Jeremy is at risk, and every moment her family are helping Jacob they are also in danger. To earn her family's trust, Clara finally has to face the past, but can she do it before it's too late?
Impossible to put down, Her Final Prayer is perfect for readers of Lisa Regan, Melinda Leigh and Kendra Elliot. You'll race through the pages until the final heart-pounding twist.
A novelist and award-winning journalist, Kathryn Casey is the author of eleven highly acclaimed true crime books and the creator of the Sarah Armstrong mystery series. Library Journal picked THE KILLING STORM as one of the best mysteries of 2010. Her latest true crime, IN PLAIN SIGHT, investigates the Kaufman County prosecutor murders, a case that made worldwide headlines. Casey has appeared on Oprah, 20/20, the Today Show, Good Morning America, the Biography Channel, Reelz, The Travel Network, Investigation Discovery, and many other venues. Ann Rule called Casey "one of the best in the true crime genre."
Twitter: @KathrynCasey
Buy Links: