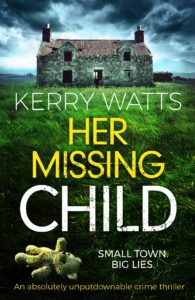 This book was sooooo good. I read it in less than 24 hours. I really couldn't put it down (poor Zach really didn't get much attention from me that day!)
Darren and Claire Lucas have not found parenthood particularly easy due to postnatal depression but adore baby Finlay. Next door neighbours Dianne and Colin lost their own baby to cot death and love helping out.
Finlay goes missing and Detective Jessie Blake and her team are called in to investigate his disappearance. Family members are hiding secrets but who could possibly have harmed a baby?
Kerry Watts has written a truly wonderful police procedural novel that deals with a devastating topic and every parent's worst nightmare. She cleverly misdirects the reader during the book so that we make assumptions about characters that then turn out to be innocent.
Her lead detective Jessie is a strong female character who also has a huge heart. Jessie is familiar with baby loss and grief as her own child died and she understands the human frailty as she has been a victim of domestic abuse and her ex is trying to inveigle himself back in her life.
The chapters are short in length which makes them perfect for maintaining the momentum of the plot. It also means that it is very tempting as a reader to read one more chapter when you are supposed to be doing something else!
Her Missing Child is simply brilliant from start to finish!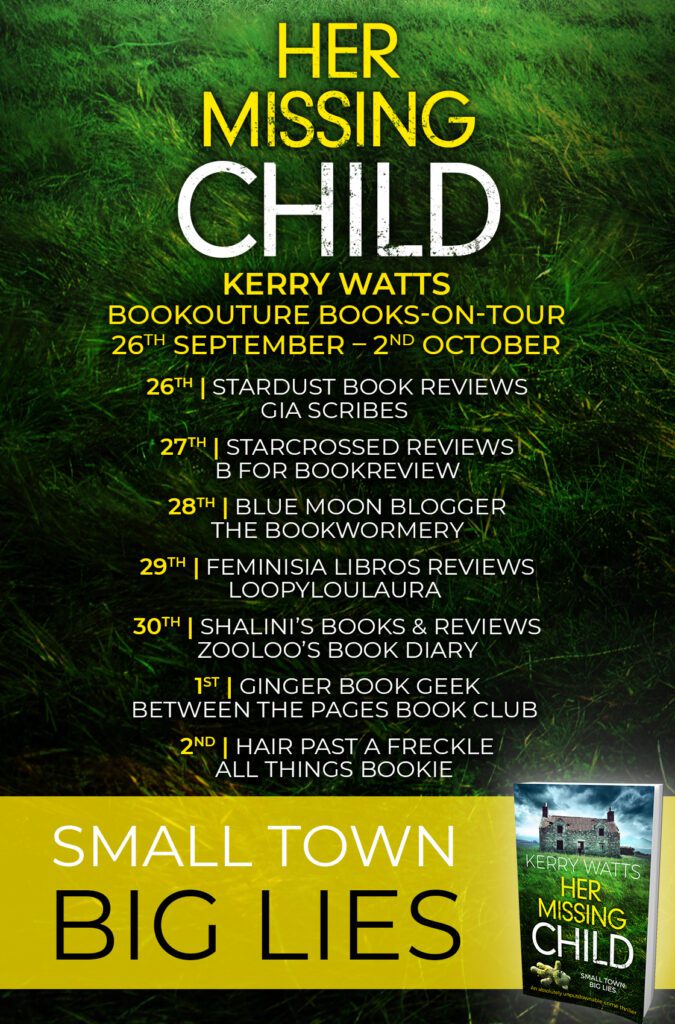 Author:      Kerry Watts
Book:                   HER MISSING CHILD
Publication Day:  26/09/2019
Buy LINK
Description:
She lays her baby in his cot – the sound of his quiet breath filling the nursery as she leaves the room. Soon Claire will be fast asleep herself. She won't hear the back door opening or the footsteps on the stairs.
When Claire Lucas is woken by her husband asking where their baby son is, she is dazed and confused. When she follows Darren into their child's bedroom, she hears nothing but silence. No baby cries, no cute gurgles. The only thing left in Finlay's cot is his beloved teddy bear. Finlay has gone.
Detective Jessie Blake rushes to the family's modern home in the rugged Scottish Highlands. She notices that Darren avoids eye contact, and Claire seems disconnected – unable to account for the last few hours of her afternoon. Jessie knows there's no normal response to losing a child, but something doesn't feel right.
Friends rally round the young family, as a search of the narrow lanes and green hills of Moncrieffe begins in earnest. And as helpers battle the wild Scottish weather, Jessie is sure that someone in the search party must know more than they're letting on. Someone must have seen something.
As a ghost from her own past comes back to haunt her, Jessie must put aside her own personal tragedy to save baby Finlay. Can she get the people of the small town to talk before it's too late?
If you love Cara Hunter, LJ Ross and Robert Bryndza, you'll lovethis addictive new crime thriller from Kerry Watts. Her Missing Child will have you hooked from the start!

Author Bio:
Kerry Watts was born and grew up in a small town in the East of Scotland where she still lives today. She is always writing and carries a little notebook and pen with her wherever she goes because at her age ideas need to be captured before they disappear.
Kerry specialises in crime fiction because she enjoys pushing the boundaries of what it is to be human. The nature versus nurture debatefascinates her. She loves to put her characters in impossible situations just to see what happens. Her experience as a psychiatric nurse heavily influences her writing. She also wants to create characters that people can relate to who might be facing the same struggles as anyone else.
Authors who inspire her are anyone capable of creating a character who lives inside her head long after she has closed the book. Her favourite fictional character's are Dexter Morgan, created by Jeff Lindsay as well as Hannibal Lechter created by Thomas Harris. She doesn't have a favourite genre as a reader. Kerry will read anything. Written by anyone. If the blurb has a good feel about it she's hooked.
When she's not writing she loves to spend time following her other passions – dogs, particularly rescue mutts and horse racing. The sight of a thoroughbred race horse at full stretch has been known to move her to tears, not just lump in the throat stuff but full on blubbing. And for that she is unashamed. One day she's going to buy a racehorse filly and call her Into Darkness.
She also had a small role in a film called The Rocket Post but decided acting wasn't for her. She would rather create a character than play one. All of her books are brought to you through the super powers of Tetley tea.
Author Social Media Links