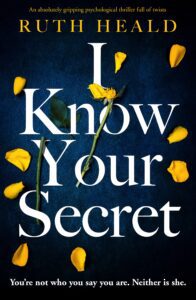 Beth's partner leaves her after she discovers he has been having an affair. A therapist who can't make her own relationship work, while Danielle and her husband need marriage counselling and have booked in with Beth . Both women are haunted by the past but who is manipulating who?
The deterioration of Beth's personal and professional life is gradual over the course of the book as she becomes determined to undermine Danielle.
I Know Your Secret is a clever psychological thriller told from the perspective of the two women with each taking a chapter in turn. There are plenty of opportunities for us as readers to guess about the motives of the characters which help to engage with the book. The use of the two first person narratives is a really effective way of getting us sympathetic to both women despite their unpleasant behaviour.
The ending has plenty of surprises as the full extent of the connection between the two women is revealed right at the end with shocking twists for both Beth and Danielle. The past is key to understanding the events of the book and clues are divulged by each woman slowly to offer a teaser for the reader.
I liked the way that Ruth Heald has used common life experiences to create an inticate plot that involves love, loss, family and mental health. This is a very human book, if that makes sense: Beth and Danielle are both believable and realistic characters which makes it easier to feel a connection with them. The psychological thriller element of the book develops the tension between the characters and we are drawn in to the story, making assumptions about what will happen next before revealing the truth.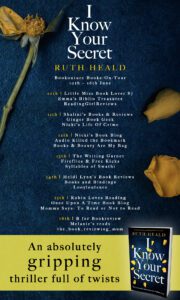 Book Description:
You're not who you say you are. Neither is she.
She thinks she knows me.
She believes my marriage is falling apart at the seams, that my husband can barely look me in the eyes. She thinks I'm desperate for a baby, that my longing for a family keeps me up at night. As much as I hate to admit it, all of this is true.
She thinks I listen to her advice, that I care about her opinion. That couldn't be further from the truth.
Because she has no idea who I am. She has no clue that I know everything.
I know her secret. I know that she did the unforgivable. I know how many lives she ruined.
I know exactly what she did. And I'm here for her.
An utterly gripping, addictive and shocking read about the dark secrets we're ashamed to admit, and the lengths people go to for revenge. Fans of K.L. Slater, My Lovely Wife and The Wife Between Us will be racing through the pages, gasping at the twists, and reeling from the explosive ending of this unmissable page-turner.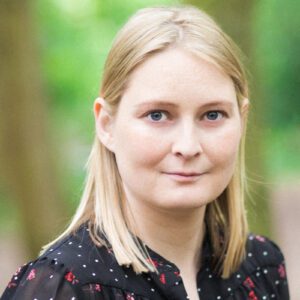 Author Bio:
Ruth Heald is a psychological thriller writer from a suburban Buckinghamshire town. She studied Economics at Oxford and then worked in an eclectic mix of sectors from nuclear decommissioning to management consulting.
Seeking a more creative environment, she found a role at the BBC and worked there for nine years before leaving to write full time. Ruth is fascinated by psychology and finding out what drives people to violence, destruction and revenge. She's married with one daughter and her novels explore our greatest fears in otherwise ordinary, domestic lives.
Buy Links:
—