Katie is shocked but hopeful when she discovers she is pregnant. Her partner Ian is ready to commit to being a family and organises a new home for the family. But on arrival Katie discovers the house is in a state of disrepair. Unable to turn to her family or friends, she meets Paula in a cafe who offers to help.
Earlier than expected Katie goes into labour and is delivered of her twins. Ian is abroad and misses the event so Katie relies on Paula to help her cope with two newborns. Paula's influence over Katie increases whilst her relationships with her mother, sister and lover disintegrate as lies are revealed…
The Woman Upstairs is a very dark book. The ways that Paula undermines Katie are awful yet fascinating to watch, playing on her insecurities and exposing the lies that surround her in her other relationships. The development of their relationship is insidious and overwhelming and ultimately very disturbing.
As a mother, I fully understand Katie's insecurities about her abilities as well as her doubts about her relationships with her partner and family. I'm sure many other people will understand the importance of trust at such a vulnerable time and this emotional reality makes the book believable.
Ruth Heald has written the book in the first person so we are privy to Katie's muddled and mixed thoughts and feelings that are being manipulated by the volatile Paula. As an outsider, I wanted to shout at Katie to escape Paula's clutches, and rebuild the relationships that she needs to support herself and her babies.
We also see chapters from the past: a family being devastated by domestic abuse. I had several guesses about the connection of this second narrative with the present day events and the multiple possibilities made the book dramatic and increased my anticipation as I read.
Take a look at my review of Ruth Heald's The Mother's Mistake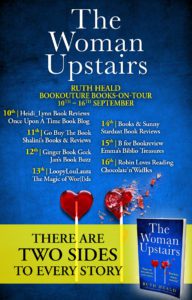 Author:     Ruth Heald

Book:       The Woman Upstairs    
Publication Day:  10/09/19
Buy Links
Description:
You'd be lost without her…

She's the shoulder you cry on when the father of your children disappears.
She's the person you turn to when he comes back, begging for forgiveness.
She's by your side when you discover his guilty secrets.
She helps rock your babies to sleep when they cry.
She's your friend when you have no one else.
She's the woman upstairs, whose feet you hear treading around as you drift off at night, thankful you aren't alone.

But what if you're about to lose everything because of her?

One of the most twisted, shocking, heart-stopping psychological thrillers you'll ever read! Fans of K.L. Slater, The Wife Between Us and The Girl on the Train, prepared to be kept up way past your bedtime as you race through this addictive page-turner.

Author Bio:

Ruth Heald is a psychological thriller writer from a suburban Buckinghamshire town. She studied Economics at Oxford and then worked in an eclectic mix of sectors from nuclear decommissioning to management consulting.
Seeking a more creative environment, she found a role at the BBC and worked there for nine years before leaving to write full time. Ruth is fascinated by psychology and finding out what drives people to violence, destruction and revenge. She's married with one daughter and her novels explore our greatest fears in otherwise ordinary, domestic lives.
Social Media Links: