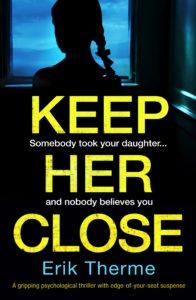 This is a book that plays on the fears of every parent: the disappearance of your child.
Ally has lived with the mystery of her previous family but now wants to discover the truth. She was found beside the body of a woman presumed to be her mother but has no recollection of her previous life. Her adoptive parents Dan and Holly found her and fought to keep her: they have been protecting her ever since despite the breakdown of their own relationship.
Ally disappears with the intention to find out the truth about her past and her biological family but things are not what they seem…
Dan and Holly race to find Ally but can they trust her friends?
The first part of the book is the frantic search for Ally by her parents and the second part is what really happened to her. As a parent myself, I really felt that the fears felt by the parents to be honest and relatable.
Keep Her Close has short chapters to maintain the momentum but which also makes it easy to read around being a busy mum: great! It was a quicker read than I expected but didn't appear too short – maybe I was reading it faster than I thought because I was caught up in the plot 🙂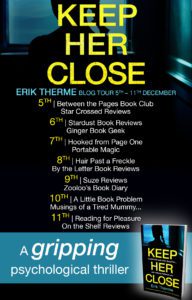 Title:         Keep Her Close   
Author:     ERIK THERME  
BUY LINKS
Publication Day: Dec 5th 2018
Description:    
Someone took your daughter. And nobody believes you…
Then:
Three-year-old Ally was found alone in a parking lot.
She was barefoot and dressed only in a yellow sundress. In the middle of winter.
What kind of person would abandon their daughter?
Now:
Fifteen years later and Ally has a new family.
But her real father has sent her a letter.
And now Ally is missing. 
A gripping twist-filled thriller that will have you looking over your shoulder. Perfect for fans of Gone Girl, The Girl on the Train and Teresa Driscoll. 
Author Bio:
Erik Therme has thrashed in garage bands, inadvertently harbored runaways, and met Darth Vader. When he's not at his computer, he can be found cheering for his youngest daughter's volleyball team, or watching horror movies with his seventeen-year-old. He currently resides in Iowa City, Iowa—one of only twenty places in the world UNESCO has certified as a City of Literature.
Author Social Media Links: