Tess is doubly griefstricken following the deaths of her daughter and brother. More bad luck follows when a car accident results in her sister in law Torrie in a coma. Tess and her husband care for their nephew Levi but then a woman turns up claiming to be Torrie's sister. However, Torrie always claimed to have no family…
If She Wakes is a psychological thriller set in America. It is a sequel to If She Dies which I have not read. The author catches us up on events from the last book so if you don't like spoilers then I would suggest reading in order.
Tess has a lot of emotional baggage and is also keeping secrets from her husband. She is haunted by her poor choices after her daughter's death. But now she has an immediate dilemma in the form of the woman claiming to be family. She struggles to trust anyone and is determined to keep her young nephew safe at any cost.
Tess is under a great deal of emotional pressure as her own past and that of her sister in law come to the fore. The author creates a sense of unease and tension as deception and secrets are revealed. There are plenty of twists as the plot progresses and the final chapters were completely unexpected with potential for a future sequel.
If She Wakes is an enjoyable psychological thriller that kept me guessing.
I have previously reviewed Keep Her Close by Erik Therme.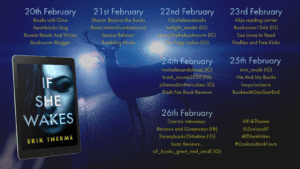 Book Blurb
Who do you trust when everyone is lying?
My name is Tess Parker.
Two days ago, I was in a car accident with my sister-in-law, Torrie. Before she slipped into a coma, she asked my husband and me to care for her four-month-old son, Levi.
Yesterday, a woman claiming to be Torrie's estranged sister knocked on our door. But Torrie has no siblings . . . or so she said. She and my brother were only together a short time before he left, and Torrie has clearly been keeping secrets.
Today, another of Torrie's "sisters" has come to town. Both say the other is lying about who they are.
Neither of them is telling the truth.
Both of them want Levi.
Buy Links
Author Bio
Erik Therme has thrashed in garage bands, inadvertently harbored runaways, and met Darth Vader. When he's not at his computer, he can be found cheering on his youngest daughter's volleyball team, or watching horror movies with his oldest. He currently resides in Iowa City, Iowa—one of only twenty-eight places in the world that UNESCO has certified as a City of Literature. Join Erik's mailing list to be notified of new releases and author giveaways: http://eepurl.com/cD1F8L