DS Smith's life is back on an even keel after a turbulent year. His wife and daughter have moved back in and they are looking forward to a long Christmas holiday together. But then the phone rings and Smith and Whitton are called back to work for a murder investigation. Two more bodies are discovered and the police are unable to find any connection. DS Smith suspects someone in the team…
Motive is the thirteenth book in Stewart Giles' Jason Smith series. I have read books 10 and 12 (

Severed

and

Deadeye

) and was eager to catch up of the life and love of the lead detective.
The dynamics between the characters is just so good. Smith and Whitton are married with a young daughter so have to negotiate the personal and professional lives. Giles has a way of making you really care about the characters: they have a reality that is refreshing and the dialogue feels natural.
There are also the dynamics of the relationships with other characters, including superior officers, the forensic team and the colleague that Smith had a one night stand with. In Motive, the other characters have an increased significance as Smith believes that one of them is leaking information to the press and could even be the murderer they are searching for.
The plot begins with a murder and, while this is quite graphic, it does not seem gratuitous. Later murders are described in forensic detail but with the added personal reaction of Smith and his team.
The ending was certainly dramatic but didn't feel very realistic. I was on the edge of my seat with anticipation but felt a little let down with the actual reveal of the culprit. However, the rest of the book is such high quality that it didn't spoil my enjoyment of Motive and I can't wait to see what happens next in Smith's life.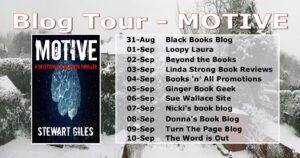 MOTIVE (Detective Jason Smith #13) by Stewart Giles
From # 1 bestselling author, Stewart Giles comes a new detective Harriet Taylor/Jason Smith thriller.
In the week before Christmas, two people are brutally murdered in their homes. There is no sign of a struggle and both victims have had their throats slashed open.
Detective Jason Smith is on holiday for the Christmas period, but he finds himself in the middle of the investigation before he knows it.
There are no clues left at the murder scenes besides a bizarre series of numbers and letters left in random places – E.6.T.0.M. Smith and the team are baffled. What is the relevance of this ambiguous message?
As the bodies start to pile up, and the tensions heat up within the team, Smith soon senses that someone in his team knows more about this than they are letting on. Is there a rat in their midst? And if so, who is it? And why is someone killing people without any obvious motive? In the most bizarre case of Smith's career, will this be the murderer that finally beats him?
WHAT READERS ARE SAYING ABOUT MOTIVE:
'Firstly I just want to say, Motive is one of this author's best books so far, it's got so much action and twist's going on, I doubt this author will never ever bore me, Is there more on the way? I hope so.' – Booklover Bev
'MOTIVE throws a horrific, inexplicable incident out of nowhere. Swamped with indecipherable mysteries, heart racing suspense builds to harrowing proportions.' – Eileen
'I was so pleased to get stuck into another DS Smith story that I read this in one sitting!' – Alison
'An awesome read domestic intertwined with adrenaline pumping thrills keeps the pages turning and the ending …. Well that not only had my heart racing but also grabbing for the tissues.' – I Love Books
BOOKS BY STEWART GILES
DS JASON SMITH SERIES
Book 0.5-Phobia
Book 1-Smith
Book 2-Boomerang
Book 3-Ladybird
Book 4-Occam's Razor
Book 5-Harlequin
Book 6-Selene
Book 7-Horsemen
Book 8-Unworthy
Book 9 – Venom
Book 10 – Severed
Book 11 – Demons
Book 12 – Deadeye
Book 13 – Motive
DC HARRIET TAYLOR SERIES
Book 1-The Beekeeper
Book 2-The Perfect Murder
Book 3-The Backpacker
Trotterdown a box set of DC Harriet Taylor books 1-3
DS JASON SMITH &DC HARRIET TAYLOR SERIES
Book 1 – The Enigma
Book 2 – Dropzone
Book 3 – The Raven Girl
PSYCHOLOGICAL THRILLERS
Miranda
Mistress
Medusa (coming soon)
STANDALONE HORROR
The Divide
DI O'REILLY MYSTERIES
Blood on the Island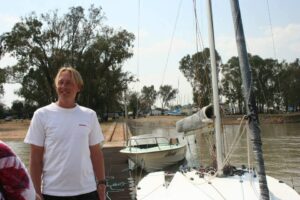 Stewart Giles – Author Bio
After reading English at 3 Universities and graduating from none of them, I set off travelling around the world with my wife, Ann, finally settling in South Africa, where we still live.
In 2014 Ann dropped a rather large speaker on my head and I came up with the idea for a detective series. DS Jason Smith was born. Smith, the first in the series was finished a few months later.
3 years and 8 DS Smith books later, Joffe Books wondered if I would be interested in working with them. As a self-published author, I agreed. However, we decided on a new series – the DC Harriet Taylor: Cornwall series.
The Beekeeper was published and soon hit the number one spot in Australia. The second in the series, The Perfect Murder did just as well.
I continued to self-publish the Smith series and Unworthy hit the shelves in 2018 with amazing results.  I therefore made the decision to self-publish The Backpacker which is book 3 in the Detective Harriet Taylor series which was published in July 2018.
After The Backpacker I had an idea for a totally new start to a series – a collaboration between the Smith and Harriet thrillers and The Enigma was born. It brings together the broody, enigmatic Jason Smith and the more level-headed Harriet Taylor.
Miranda is something totally different. A stand-alone psychological thriller, it is a real departure from anything else I've written before. This was followed by the sequel Mistress in 2019.  Medusa is coming soon
The Detective Jason Smith series continues to grow and there are now 13 books including the introduction: Phobia. Book 12: Deadeye was published in February 2020.
Twitter: @stewartgiles